The universal enthusiam for physical fitness shown by locals is the basis for the city's fame in sports.
City famed for producing athletes has high hopes for this year's Olympics
With the 2012 London Olympics under way, a city in East China's Jiangsu province is expected to once again rise to fame, given the excellent performance of its athletes in a number of international and national events in the past, local sports officials have said.
Nantong in Southeast Jiangsu has nurtured 17 athletes who have won a total of 80 gold medals in international competitions since the late 1970s, when China first appeared in the global sports arena.
And the number of world champions from the city has been on the rise over the past three decades: four in the 1980s, five in the 1990s and eight in the 2000s.
Since the Barcelona Olympics in 1992, Nantong's athletes have taken home 10 gold medals in five straight Olympics.
"They performed particularly well at the Beijing Olympic Games in 2008, where they won four gold medals, with three of them taken in a single day," said a local sports official.
Nantong owes its achievements mainly to its trailblazing approach to cultivating young, promising athletes, said Liu Peng, head of the country's General Administration of Sport.
"It has a system that integrates training with education for young students interested in sports, and this method has proven effective and fruitful," Liu said.
The city has nine part-time sports schools, where more than 1,550 primary and middle school students receive after-school training in games that interest them, including table tennis, badminton, diving, swimming and fencing.
Another popular method is to send coaches to ordinary schools so that they can provide professional instruction for students in the schools' sports teams.
In this manner, coaches can spot students who have great sports potential without affecting their academic performance, a local sports official said.
This also helps dismiss many parents' worries that training might cause their children to lag behind in academic studies.
Thanks to such methods, young sports geniuses can choose professional teams where they can receive further training and compete for medals, while students who are unlikely to perform well in sports will still have the opportunity to go to college or at least vocational schools, he added.
Century-old tradition
In addition to this training and selection mechanism, local government leaders also attribute Nantong's success to its century-old sports tradition.
In 1903, when sports facilities were somewhat of a rarity in the ancient country, the Rugao Normal School in Nantong built a 300 square meter indoor sports facility for its students.
Two years later, local schools organized the city's first modern athletic contest.
In 1913, the city government, with funds contributed by local entrepreneurs, established Nantong's first public stadium.
In 1922, two students at the city's normal school went to Japan for the Far Eastern Championship Games and returned with a bronze.
This long-running legacy has helped result in almost universal enthusiasm for physical fitness among students as well as local citizens.
Official statistics show that more than 4 million residents, over half of the city's population of 7 million, take part in sports on a regular basis.
Sports centers have been built in all 115 of its towns, and residents in all its 1,789 villages also have convenient access to sports facilities, said the city's sports officials.
The city's largest comprehensive sports facility, the 160,000 sq m Nantong Sports and Exhibition Center, began operation in 2006.
Costing 1.1 billion yuan, the complex comprises a stadium, an exhibition center and an indoor swimming pool.
In recent years, Nantong has hosted a number of major sporting events, including the Asian Fencing Championships, which have also helped fuel the development of local sports.
Booming industry
The local people's rising enthusiasm for sports and the increasing number of events in the city have also created a big market for the sports industry.
More companies and firms are now engaged in the production of sports equipment, offering sports-related services, operating sports facilities, organizing competitions and selling sports lottery.
The sports industry accounts for almost 1 percent of the local GDP.
The booming industry has also boosted the development of sports in the city.
About 4 billion yuan worth of sports lottery was sold last year, offering enough funds for local sports and other social undertakings.
In addition, local businesses have increased their investment in building sports facilities and running sporting events.
For example, the Nantong Sports and Exhibition Center as well as the Nantong branch of the China Sports Museum and a number of other training facilities have all used funds from non-government investors.
Ding Congrong contributed to the story
lifusheng@chinadaily.com.cn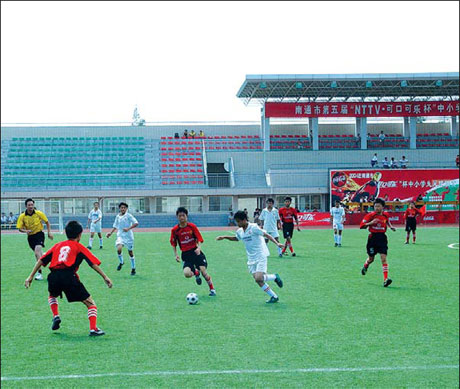 Young players take part in a citywide football league.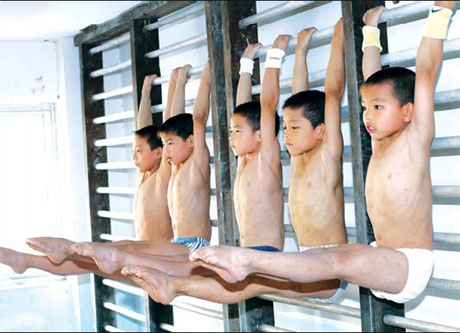 Local students receive training at one of Nantong's part-time sports schools.
(China Daily 07/28/2012 page12)