Baotou amateur table tennis competition shows growing popularity
By Lu Wei Updated: 2017-05-10
More than 280 Baotou residents took part in the fifth annual table tennis competition organized by Taobaocheng, a local club, on May 6, according to local media.
The tournament took a round-robin format with the most successful participants passing through to the next round. As one Taobaocheng worker explained, the tournament continues to grow in popularity each year.
"Table tennis has gained in popularity over the past few years in the city. In general, table tennis amateurs choose to play against people on their sporting level. But the round-robin format gives them the chance to compete against a range of players."
Jin Zeyuan, a 65-year-old winner of the tournament, thought highly of the tournament and said he played around eighty matches during this month and had to compete against every member of the group, which challenged both his technique and endurance.
Jin has been involved in all five iterations of the tournaments and has seen the competition grow in stature and competitiveness. In his first year he finished fifth and so it is fair to say that through hard work and careful training he has been able to improve.
Table tennis had a relatively late start in Baotou but has seen a resurgence of popularity over the past few years. More than 600 residents registered for table tennis competitions in 2016, twice the number that did so in 2013.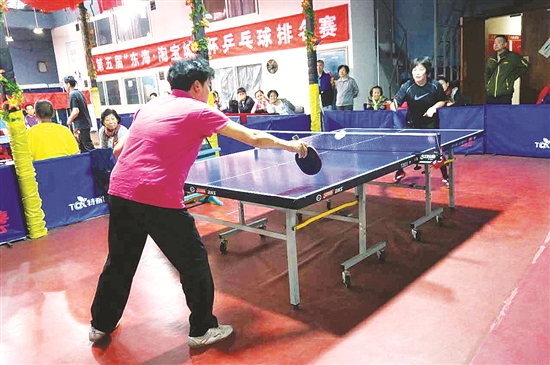 Baotou residents compete in a table tennis tournament on May 6. [Photo/Baotou Daily]