Baotou aircraft wins award for livery
By Lu Wei Updated: 2017-01-12
A Baotou-based aircraft named Create Dream topped the 2017 National Image Aircraft Painting Top 10 List released by the World Tourism Development Forum.
The Boeing 737-800 aircraft, named by the people's government of Baotou, is the first in the world that has Chinese screen paintings on it – a traditional form of art originating from the Tang Dynasty (AD 618-907).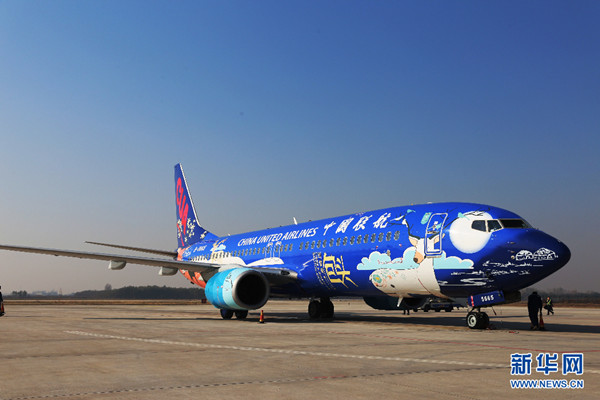 A Baotou-based aircraft named Create Dream is nominated for best aircraft livery. [Photo/Xinhua]
The aircraft is operated by China United Airlines (CUA), a wholly-owned subsidiary of China Eastern Airlines Co. Established in 1984, CUA now owns 31 B737-800 aircraft which fly to over 70 cities, completing more than 170 flights every day.
Designed by NARDO Aerospace Lab, a pioneer in aviation innovation, the aircraft has been painted with patterns that incorporate Inner Mongolian elements. A white deer was painted on the nose of the aircraft as Baotou is also known as Lucheng – a city with deer. And Mongolian ovoo (sacred piles of stones) and flags are seen on the outboard wings. The aircraft livery is meant to present a picture of serene Mongolian grassland.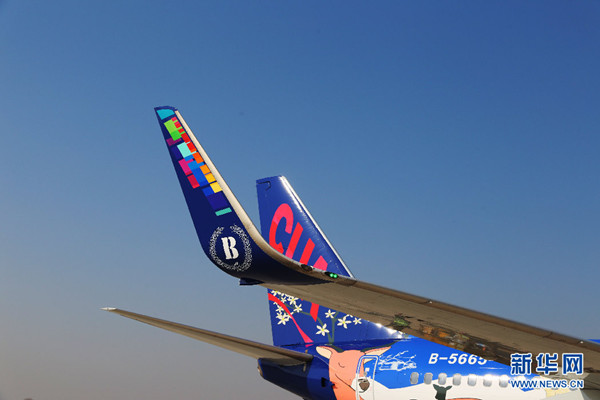 The fuselage of the Baotou-based aircraft [Photo/Xinhua]
The Baotou aircraft completed its maiden flight from Beijing to Baotou, Inner Mongolia autonomous region, on Nov 4. More routes operated by the aircraft will be added in the near future including Beijing-Chengdu, Hanzhong-Kunming and Shanghai-Beijing.
All Blacks, an aircraft owned by Air New Zealand, took the second place in the top 10 list, followed by Tropical Megatop of Singapore Airlines. Also in the top 10 list were Wiener Philharmoniker of Austrian Airlines, Golden Dove of British Airways, Wunala Dream of Qantas, Salmon-thirty-salmon of Alaska Airlines, Royal Barge of Thai Airways, Hibiscus of Malaysia Airways, and Football Nose of Lufthansa.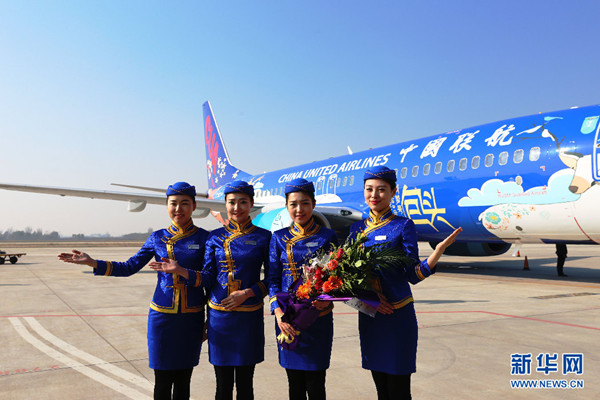 Crew members of the Baotou-based aircraft pose for a group photograph on the day of its maiden flight, Nov 4, 2016. [Photo/Xinhua]