Baotou's sheepskin painting makes debut at cultural expo
By Lu Wei Updated: 2016-09-27
Ji clan sheepskin paintings including The Portrait of Genghis Khan, made appearances at the cultural expo held in Dunhuang, Gansu province, Baotou Daily reported on Sept 25.
The sheepskin paintings on display were created by the Ji family in Baotou, Inner Mongolia autonomous region, and were selected to present the grassland culture of the region.
The First Silk Road (Dunhuang) International Cultural Expo (SRICE) held in Dunhuang, Gansu province, from Sept 20 to 21, attracted a total of 95 delegations from 85 countries and five international organizations. The exhibition presented some 8,000 exhibits on the cultural achievements of more than 60 countries along the Belt and Road.
Sheepskin painting is a form of painting where artists paint on a piece of sheepskin with special paints.
The history of sheepskin painting can be traced back to the Qing Dynasty (1644-1911). During the reign of the Tongzhi Emperor (1861-1875), the craft of sheepskin painting was inherited and developed by the Ji clan.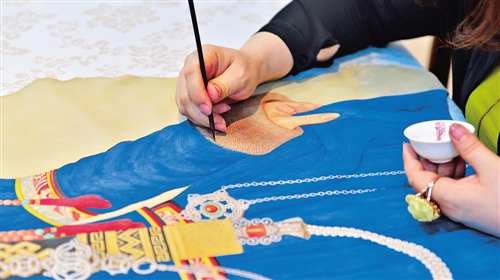 Ji Ying, a member of the Ji family, draws traditional Mongolian costumes on a piece of sheepskin. [Photo/Inner Mongolia Daily]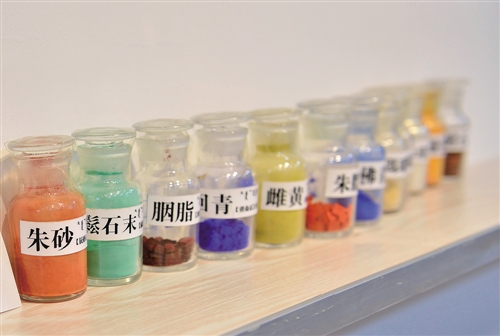 Special paints used for sheepskin painting [Photo/Inner Mongolia Daily]
The Ji clan sheepskin painting features the use of high-quality sheepskin and paints made from natural minerals. The paintings mostly depict people, flowers, birds, and patterns. Influenced by the grasslands and nomadic culture of Inner Mongolia, the paintings are well known for the detailed depiction of ancient emperors and Mongolian costumes.
The Ji clan sheepskin painting was listed as part of the cultural heritage of the Inner Mongolia autonomous region in 2011.