The rise of imported goods stores
By Lu Wei Updated: 2016-09-14
Shopping centers featuring imported goods have sprung up in Baotou, Inner Mongolia autonomous region.
Shoppers are now able to buy goods from a wider range of countries, including Japan, South Korea, Europe and North America. They flock to purchase local specialties from other countries. They buy cod-liver oil made in Iceland, pans from Germany and snacks from Japan.
Just a few years ago, it was only those who had overseas relatives or friends that could get access to foreign goods. The growing demand for imported products creates business opportunities, and thus emerges a group of people who live overseas (usually students), buy the appointed goods and send them to the customers. There is even a name for those engaged in this business, daigou, Mandarin meaning purchasing items on behalf of customers and shipping the items to the customers.
Online shopping platforms like ymatou.com and koala.com have seized the opportunity, branching out into the imported goods market.
Buying goods from overseas has become extremely popular, and there are now a large number of importers in China. According to a report released by 100ec.cn, a platform focusing on researching e-commerce, the total volume of daigou purchases leapt from two billion yuan ($300 million) in 2010, to 39 billion yuan ($six billion) in 2015.
Starting last year, shopping centers featuring imported goods stole market share from online shopping platforms.
Medium and large-sized shopping centers featuring direct imported goods have sprung up in Baotou. The Tinajin Free Trade Zone Dongjiang Imported Goods Center made its appearance in Baotou, Inner Mongolia autonomous region, in December 2015. An imported goods center featuring selected commodities from all over the world started trial operations in July 2016, right beside the Baotou Grand Theatre. Also, the Korean Town featuring products made in South Korea was opened the same month.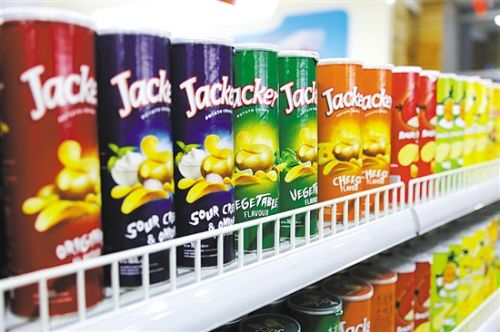 Stores featuring imported goods have sprung up in Baotou, Inner Mongolia autonomous region. [Photo/Baotou Daily]
There has never been a time when imported products were so accessible.
Li Juan, a shopper in her forties, said that as a fan of a brand of South Korean shampoo, she had had to find someone in South Korea to buy it for her, as it is not available in Baotou. However, this has since changed and it is now available to purchase in Baotou.
The price of purchasing an imported product is usually lower than the price someone would pay a purchasing agent, benefiting consumers.
The inland port at Mandula, in the city of Baotou, Inner Mongolia, will soon be getting a duty-free store after getting approval from China's General Administration of Customs, after a long period of trying to get permission. It will be the first duty-free store in Baotou, and will provide customers with more choices of imported goods and a first-class shopping environment.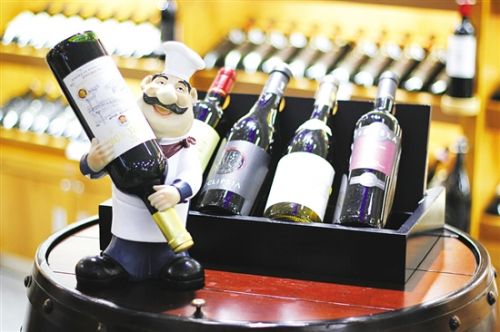 Imported wine makes its first appearance at a store in Baotou, Inner Mongolia autonomous region. [Photo/Baotou Daily]