Chinese New Year with gusto in North China
Updated: 2016-02-15
Spring Festival is the most important traditional event for Chinese, a time for the family to get together and enjoying the fruits of the previous year's labor, and the people of Baotou, Inner Mongolia autonomous region, bore that out embracing the Year of Monkey and filling the city with a joyful festive atmosphere.
This was done through traditional ordinary activities and more modern ways, with some people gatherring for large parties, concerts or galas, including the Spring Festival gala, Internet Spring Festival gala and Farmer Spring Festival gala.
Newer celebrations included the city museum holding interactive activities for children, such as a lecture on the meaning of "fu" (the popular Chinese character for "happiness") or drawing monkeys, exploring some old rock paintings and learning about Inner Mongolia's ethnic culture to give them an opportunity to learn and have fun at the same time.
Some other people made the trip to Beijing to see its famous temple fair, which combines acrobatics, wushu (martial arts), shadow shows, and other folk dramas as well as local, traditional foods for tourists.
In addition, some people opted for just watching a movie, going to a KTV place, travelling nearby, or reading a book in the library. Quite a few of the celebrations will last to the Lantern Festival, another traditional festival, which falls on Feb 22 this year.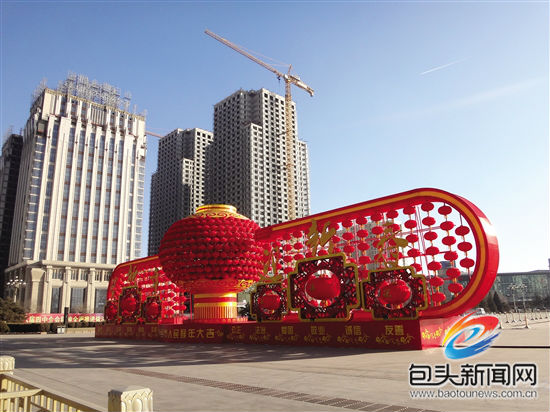 Arden Square with lantern display to bring peace and prosperity in 2016. [Photo/baotounews.com.cn]