Holiday Farms in Changsha county
Huasui Ecological Farm
(chinadaily.com.cn)
Updated: 2018-10-19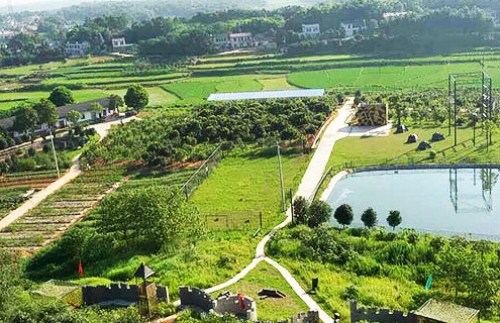 Huasui Ecological Farm [Photo/hsstnz.com]
Huasui Ecological Farm is a comprehensive holiday resort integrating parent-child activities, barbecue, fruit picking, lobster fishing, sports events and training.
The farm has a rice planting base of more than 50 mu (3.3 hectares) and a vegetable planting base of 60 mu. It has an 800 square meter pig farm, a farmhouse that raises 600 chickens and ducks, and a 4.5 mu fish pond. The catering is natural and low carbon.
Parents and children can pitch tents, pick fruits and vegetables and fish for lobsters on the farm. Various kinds of fruits and vegetables are available such as grapes, pears, oranges, waxberries and sweet corn.. Barbecue and cycling are also popular activities.
For business visitors, the farm has more than 30 suites with automatic chess and card machines. Four multimedia conference rooms with a capacity of 750 people are available, and more than 10 programs can be chosen for training purposes. The base also provides professional training coaches and customized training programs.
Exciting games such as lazer tag can also be experienced.
The farm has received more than 100,000 tourists since its opening in 2010 and has been widely praised.
Address: Huanghua village, Huanghua town, Changsha county, Hunan province
Tel: 0731-86809888
Email: 912175851@qq.com
Website: www.hsstnz.com
In recent years, the local government has sought to revive the region's long tradition in porcelain making and boost local industry with the cultural influence of ancient Tongguan kilns, which have a history of 1,200 years.
Contact Us
Tel: +86(0731)-8401-8486
Add: No.19, Kaiyuan Rd, Xingsha, Changsha county