Holiday Farms in Changsha county
Tianmao Modern Farm
(chinadaily.com.cn)
Updated: 2018-10-19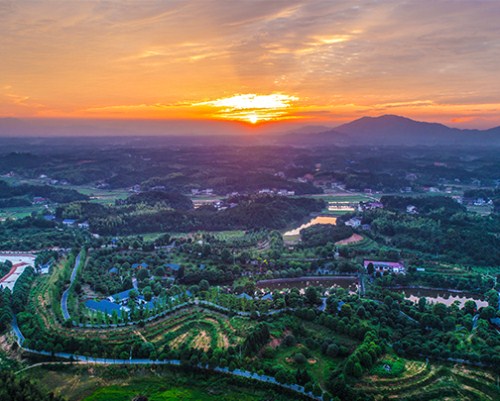 Tianmao Modern Farm [Photo/cstmnz.com]
Tianmao Modern Farm was founded in 2009 and covers an area of 806 mu (53.7 hectares). It is a modern agricultural ecological sightseeing park with small fruit planting as its main industry. Its agricultural tourism resort focuses on enjoying flowers, tasting fruits, fishing, special catering and accommodation.
Various kinds of flowers and fruits are planted at the farm. In spring, you can enjoy the beauty of mountain peach blossoms, pear flowers, prune flowers, cherry blossoms, rhododendrons and more. Summer is the best time for picking fruits, including loquats, peaches, prunes, waxberries, melons, pears, kiwi fruits and Chinese chestnuts. Even in the winter however, plum blossoms bloom in the snow.
There are also more than a dozen indoor and outdoor entertainment activities for guests to choose from. Fruit picking, cycling, fishing, barbecue, chess and cards, ball games, fitness and karaoke are all popular options available on-site.. The farm additionally provides business services, meeting rooms and ballrooms for those who need to hold company parties and business banquets.
Address: Lijiashan community, Kaihui town, Changsha town, Hunan province
Tel: 0731-86442388
Website: www.cstmnz.com
In recent years, the local government has sought to revive the region's long tradition in porcelain making and boost local industry with the cultural influence of ancient Tongguan kilns, which have a history of 1,200 years.
Contact Us
Tel: +86(0731)-8401-8486
Add: No.19, Kaiyuan Rd, Xingsha, Changsha county