Holiday Farms in Changsha county
Jiudaowan Ecological Farm
(chinadaily.com.cn)
Updated: 2018-10-19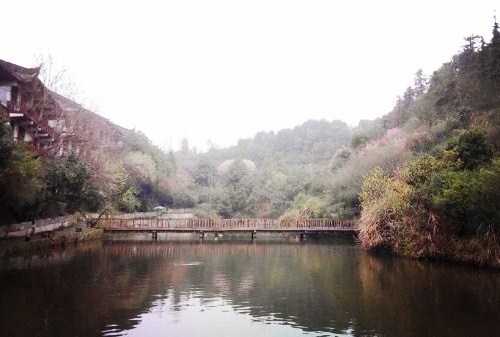 Jiudaowan Ecological Farm [Photo/csx.gov.cn]
Jiudaowan Ecological Farm is a farm tourism business taking low carbon, organic grain as its main industry. It has a good location less than 30 minutes from the urban areas of Changsha city, Xiangtan city, Zhuzhou city and Changsha Huanghua International Airport.
The farm, covering an area of 530 mu (35.3 hectares), is characterized by ecology, nature, green and culture. The farm conducts grain planting, breeding, production and processing as a whole recycling body without producing any waste water, waste gas, or waste residue.
The farm currently has more than 60 guest rooms and 120 beds. A big dining room, four meeting rooms, ballrooms, karaoke rooms, chess and card rooms and a sports center are set up on the farm. Tourists can enjoy a dozen recreational projects including foot baths, hairdressing, drifting and fishing.
In addition, the farm has built a corridor of farming culture in Hunan, and an art academy to heighten the cultural atmosphere on the farm.
Address: Lijiashan community, Kaihui town, Changsha town, Hunan province
Tel: 0731-86442388
In recent years, the local government has sought to revive the region's long tradition in porcelain making and boost local industry with the cultural influence of ancient Tongguan kilns, which have a history of 1,200 years.
Contact Us
Tel: +86(0731)-8401-8486
Add: No.19, Kaiyuan Rd, Xingsha, Changsha county