News
Changsha community library set to maximize public benefits
(chinadaily.com.cn)
Updated: 2017-10-17
A multi-functional library started operation in Niujiaochong community, in Xingsha area, Changsha county on Oct 12, offering local residents a serene environment to enjoy books and maximize public benefits.
Situated in the community park and shaded by ginkgo trees, the library occupies an area of 70 square meters. It is simple but elegantly decorated, offering local residents a retreat to enjoy the pure fun of reading.
Readers can find best sellers, classics of various sorts in politics, literature, arts and history, and manuals, as well as easy-to-understand books for children and the aged, catering to people of all ages.
All books, journals and newspapers are supplied by Changsha county library and the shelves will be replenished at appropriate times.
"It's a beautiful place, and provides a large amount of books," a local resident, Hu Yueliang, spoke highly of the new facility in his neighborhood.
"It enables us to read, exchange ideas with other readers and that helps enrich our lives," Hu added.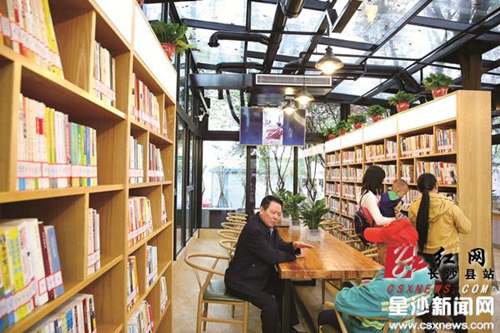 Changsha locals enjoy reading in the newly-established community library, located in Niujiaochong community in Xingsha area, Changsha county. [Photo by Zeng Shiyi/csxnews.com]
One remarkable feature of the 24-hour community library is its high intelligence system, which enables residents to apply for a library card, borrow and return books and handle other procedures all by themselves.
Registered members of the county library don't have to apply for a new one with the community library as the two libraries share resources and data.
The public space has a reserved corner for local residents to discuss official affairs and mediate disputes, helping create a more democratic community in the area.
"It's the first multi-functional urban study in Changsha county, and aims to serve residents especially those located in the county's most populous area," said Yan Can, Party branch secretary of Niujiaochong community.
The library also offers for sale coffee, tea and other drinks, of which proceeds are used to subsidize poverty-stricken students and people in need.
In recent years, the local government has sought to revive the region's long tradition in porcelain making and boost local industry with the cultural influence of ancient Tongguan kilns, which have a history of 1,200 years.
Contact Us
Tel: +86(0731)-8401-8486
Add: No.19, Kaiyuan Rd, Xingsha, Changsha county