News
Modern machinery promoted to grow agricultural industry
(chinadaily.com.cn)
Updated: 2017-03-20
The latest in modern agricultural machinery was put on display and explained for Changsha county farmers on March 16, encouraging them to embrace cutting edge technology to improve their crops.
Experts were invited to give lectures and demonstrate how to use new equipment for planting rice seedlings, plowing fields, and spraying pesticides.
The Changsha county government has been encouraging the agricultural sector to upgrade its farming methods and machinery in recent years to keep pace with its competitors.
"Modern machinery can not only save labor but also help increase the crop yields," said Li Ping, an official from Changsha county agriculture and forestry bureau.
"The training lectures are useful for helping local farmers understand the benefits of modern agriculture machines," said Li.
Automated rice planters are able to plant rice seedlings in just a fraction of the time it would take using traditional labor. [Photo by Zhang Di/csxrmt.com]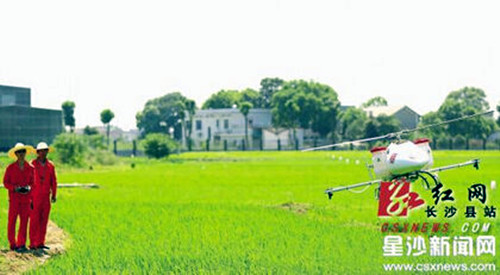 Drones can be used to spray pesticides across wide areas of crops, allowing farmers to save both time and money. [Photo by Zeng Shiyi/csxrmt.com]
In recent years, the local government has sought to revive the region's long tradition in porcelain making and boost local industry with the cultural influence of ancient Tongguan kilns, which have a history of 1,200 years.
Contact Us
Tel: +86(0731)-8401-8486
Add: No.19, Kaiyuan Rd, Xingsha, Changsha county