News
24 Solar Terms: 6 things you may not know about Awakening of Insects
(chinadaily.com.cn)
Updated: 2017-03-05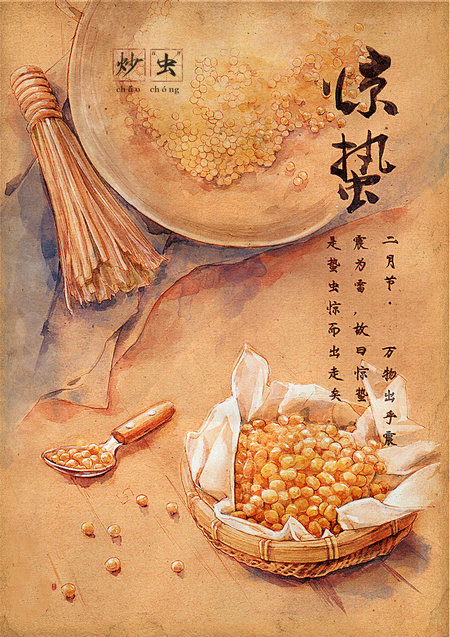 A painting of Awakening of Insects from Li Xiaolin. As a popular young Chinese artist, Li combined the customs during a solar term and the associated food and created a series of illustrations named "24 Solar Terms and Chinese Delicacies". [Photo provided to chinadaily.com.cn]
The traditional Chinese lunar calendar divides the year into 24 solar terms. Awakening of Insects (Chinese: 惊蛰) falls on Mar 5 and ends on Mar 19 this year.
Awakening of Insects signals a rise in temperature and increased rain fall. As the third solar term in the lunar year, its name alludes to the fact that animals sleeping in winter are awakened by spring thunder and that the earth begins to come back to life. It is the key time for spring agricultural activities.
Here are 6 things you may not know about Awakening of Insects.
In recent years, the local government has sought to revive the region's long tradition in porcelain making and boost local industry with the cultural influence of ancient Tongguan kilns, which have a history of 1,200 years.
Contact Us
Tel: +86(0731)-8401-8486
Add: No.19, Kaiyuan Rd, Xingsha, Changsha county