News
Songya Lake beach to open to public at Spring Festival
(chinadaily.com.cn)
Updated: 2017-01-20
A sandy beach has been constructed on the northern bank of Songya Lake in Changsha, and will open to the public just in time for Spring Festival.
Jinshayintan beach stretches two kilometers between Wutong Avenue and Gaohu Bridge and covers an area of 180,000 square meters. The area includes a wetland garden and a plum forest.
More than 100 varieties of plants have been planted in the wetland garden, while the plum forest has more than 1,500 plum trees.
An additional beach area spread across 32,000 square meters will be improved and open to the public in this May. The sand itself has been shipped in from the Taiwan Strait, some 2,000 kilometers away. Upon completion, it is expected to become the largest inland lake beach in China.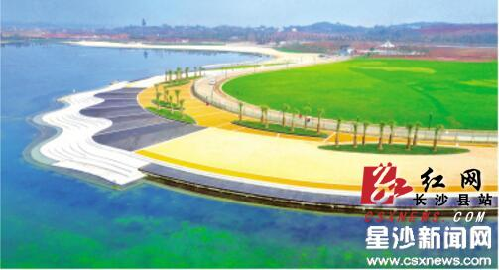 The sandy beach on the northern bank of Songya Lake in Changsha county will open to the public during Spring Festival. [Photo by Zhang Di/csxnews.com]
In recent years, the local government has sought to revive the region's long tradition in porcelain making and boost local industry with the cultural influence of ancient Tongguan kilns, which have a history of 1,200 years.
Contact Us
Tel: +86(0731)-8401-8486
Add: No.19, Kaiyuan Rd, Xingsha, Changsha county