Companies
Farsoon High-tech sees huge growth ahead in 3D printing
By ZHONG NAN and LIU WEIFENG (China Daily)
Updated: 2016-11-26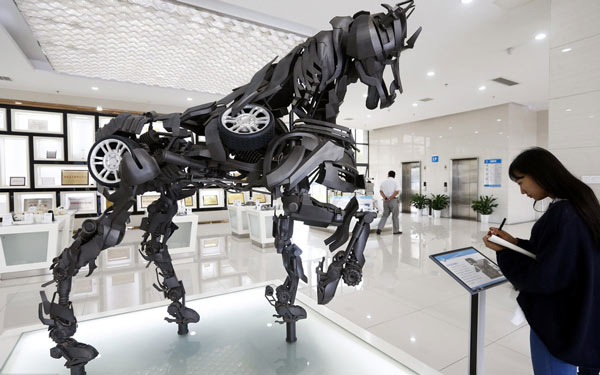 A metal horse installation manufactured through 3D printing on display at the Hunan Farsoon High-Tech Co Ltd based in Changsha city, Hunan province, 17 October 2016. [Photo/IC]
There is something different about a number of small structures that just went up in Changsha. Unlike traditional industrial mold-manufacturing, they were put together using selective laser sintering and melting-better known as 3D printing technology.
Hunan Farsoon High-tech Co Ltd is China's biggest privately-owned manufacturer of selective laser sintering machines, by both domestic and global market share. It has pledged to invest 80 million yuan ($11.7 million) in research and development each year to further compete with those established foreign rivals, such as the United States-based Stratasys or 3D Systems.
The technology of 3-D printing, which originated in the 1980s in the US, uses a system known as additive manufacturing, which refers to processes used to synthesize a three-dimensional object in which successive layers of material are formed under computer control to create an object.
It is now most commonly used for modeling, prototyping, tooling and short-run production applications.
Established in 2009, Farsoon High-tech expects more opportunities from both the world's and China's industrial upgrading boom.
Xu Xiaoshu, founder and chairman of Farsoon Technologies, said his company does not make products. It makes the machines and the materials. The company's employees of more than 200 deploy resources and manpower to develop advanced machines and materials that can be applied in the areas of aviation, healthcare, manufacturing and national defense.
The company's technology, through which its machines can turn out anything from moving car parts to prototypes for prosthetics, has been exported to overseas markets, including the US, Sweden and Italy since 2012.
With the US pushing hard to maintain its competitive edge in what is tipped to be a technology capable of revolutionizing the manufacturing and medical prosthetics industries, Xu said his work is vital to China. As a company which is not listed, Farsoon High-Tech does not supply revenue and profit figures.
Xu, who previously worked as software and control director of a 3D Systems company in the US, said metal and ceramics were materials being researched for use in 3D printing right now. "If we want to keep manufacturing jobs in China, we need to improve technology," Xu said.
"This technology will replace traditional industry in the long run. In theory, you can use it to make a car or a plane. But at the moment it's too expensive," he added.
Eager to enhance its development capabilities, Farsoon Technologies said it is also working with German chemical giant BASF to develop integral solutions for materials, printers, technology and services for 3D printing that can be tailored to meet individual customer needs.
In recent years, the local government has sought to revive the region's long tradition in porcelain making and boost local industry with the cultural influence of ancient Tongguan kilns, which have a history of 1,200 years.
Contact Us
Tel: +86(0731)-8401-8486
Add: No.19, Kaiyuan Rd, Xingsha, Changsha county