News
Automotive industry, new pillar in Changsha

Updated: 2016-11-21
The automotive industry has become an important pillar at the Changsha National Economic and Technical Development Zone.
Many leading enterprises from home and abroad, such as Shanghai-Volkswagen, Guangzhou Automobile Group, and Changfeng Motor, have established bases in the zone. The area now rolls out heavy and light trucks, sedans, SUVs, and new energy vehicles.
Shanghai-Volkswagen's plant in Changsha has become the biggest automobile supplier in Central China, producing some 280,000 vehicles annually, worth 16.8 billion yuan ($2.45 billion), according to Lin Yuanhang, general manager of the plant.
Changsha National Economic and Technical Development Zone has actively promoted R&D for key automobile parts. Since 2013, 38 suppliers of bumpers, car floors and seats, have been established in the area. Theis is thanks to favorable policies introduced by the local government, making Changsha a promising market for automakers.
In return, the auto industry has made contributions to the local economy. In the first nine months of the year, Hunan experienced year-on-year growth of 39.7 percent in its automotive industry, accounting for 19.1 percent in the province's GDP.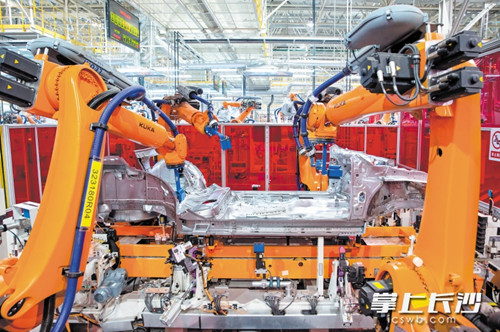 The production line at Shanghai-Volkswagen in Changsha National Economic and Technical Development Zone. [Photo by Yu Shaojie/Changsha Evening News]
In recent years, the local government has sought to revive the region's long tradition in porcelain making and boost local industry with the cultural influence of ancient Tongguan kilns, which have a history of 1,200 years.
Contact Us
Tel: +86(0731)-8401-8486
Add: No.19, Kaiyuan Rd, Xingsha, Changsha county