News
Booming tourism in Changsha county propels rural economy

Updated: 2016-07-28
Abundant in natural and historic resources along with modern developed industries, Changsha county is dedicated to promoting a comprehensive tourism industry aimed at rural prosperity and enrichment of local residents.
As the first national ecological county as well as the No 1 county in economic strength in Central China, Changsha reveres nature and seeks to preserve local ecology: its thriving industries use up only one percent of the county's land, with the other 99 percent devoted to farming and environmental preservation.
In April Changsha county announced six "one-day tour" routes across the county, uniting dozens of unique scenic spots. The six routes feature northern ecological attractions, Xingsha industrial tourism, Liuyang River culture, residence of celebrities, characteristic towns and parent-child leisure. They are expected to fully showcase the county's celebrity tourism resources, ecologically sensitive industry and leading enterprises.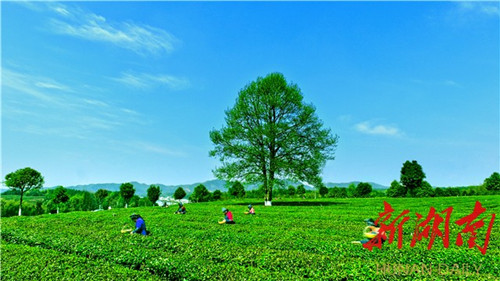 Tea garden in Jinjing town [Photo / Hunan Daily]
In the first half of 2016, Changsha county received 3.99 million tourists, a 22.48 percent year-on-year increase, and total tourism revenue exceeded 5 billion yuan, a growth rate of 22.8 percent.
County officials view tourism as a power engine that can drive the connection and collective growth of the primary, second and tertiary industries across the county, Hunan Daily commented. Farmlands function not only as traditional plantations but as sightseeing and entertainment destinations as well.
"By catering to urban residents' need to get close to nature, the sustainably vigorous countryside tourism can significantly enrich local farmers as well as entertain urban citizens," said Zeng Chaoqun, Party chief of Changsha county.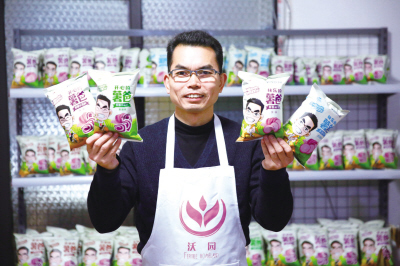 Peng Huanxin and his sweet potato products [Photo / csxnews.com]
Local farmer Peng Huanxin has made the sweet potatoes he grows into a specialty aviation food at Huanghua international airport by processing them into delicate cakes. Peng also established the Woyuan Farm where tourists can experience a sweet potato farm and sample various of its snacks products. So far, he has provided sweet potato products to over 260 supermarkets and more than 800 chain stores. Nowadays, more farmers like Peng are combining agriculture with tourism. With a length of over 100 kilometers, a tea garden-corridor across seven towns including Chunhua, Jinjing and Beishan has further shaped the integration of tourism with tea farming and processing. Visitors are able to enjoy tea-leaves picking, manual tea making, living in local folk houses and cycling along the green corridor.
In March of 2016, a canola flower festival with 3,000 mu of blooming flowers in Chunhua town attracted some 200,000 visitors, said Wu Gu, an organizer of the festival. Kaihui town has emphasized constructing guesthouses for relaxation and recreation since 2015, and consequently the income per guesthouse has reached over 200,000 yuan.
In recent years, the local government has sought to revive the region's long tradition in porcelain making and boost local industry with the cultural influence of ancient Tongguan kilns, which have a history of 1,200 years.
Contact Us
Tel: +86(0731)-8401-8486
Add: No.19, Kaiyuan Rd, Xingsha, Changsha county