News
Lehe village program mobilizes exemplary volunteer work
By Zhang Qiong (chinadaily.com.cn)
Updated: 2015-02-13
Changsha county, a sub-district of Changsha city in Hunan province, established more than 100 societies among residents in 25 pilot villages (communities) by the end of 2014.
The Changsha county Lehe Social Work Association, together with the Beijing Global Village, a non-profit non-governmental environmental protection organization, held a New Year party Feb 6 and presented the achievement report of the Lehe village program for 2014.
The Lehe village program is a comprehensive rural construction experimental project introduced by the Changsha county Party Committee and the government in June, 2013, with technological and social worker support from Beijing Global Village. Lehe literally means happy and cheerful in Chinese.
By the end of 2014, the Lehe Social Work Association in the county had employed 50 full-time social workers and initiated 102 societies among residents in 25 pilot villages or communities.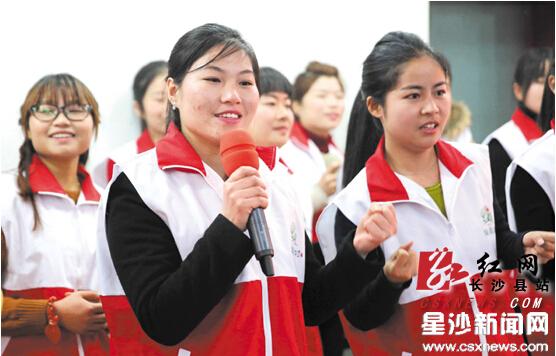 Social workers from the Lehe Social Work Association, Changsha county, give a performance in celebration of the upcoming 2015 Spring Festival. [Photo by Liu Xiaodong/csxnews.com]
These mutual aid societies have volunteered for unpaid work on more than 120 occasions, with 1,800 villagers involved, for the building of greenways and the management of local environment. Meanwhile, the association has raised 2.35 million yuan (around $377,000) in donations to set up a public fund.
With the help of the Lehe Social Work Association, local villagers are now gradually learning to work together to manage their communities, develop the local economy and protect the environment under common values.
"I'm very proud of being a member of this public welfare project that benefits my hometown." said Li Qianhui, a social worker from Changsha. "It is in line with my aspiration that people should learn to lead a more civilized life together," she added.
Li joined the Lehe Social Work Association as a social worker in May, 2014 and rendered her service to Wufu Village in Jiangbei town of the county. The young woman, once a white collar employee working in a Shenzhen-based large company, is now in strong belief to devote herself into public welfare.
Edited by Mevlut Katik
In recent years, the local government has sought to revive the region's long tradition in porcelain making and boost local industry with the cultural influence of ancient Tongguan kilns, which have a history of 1,200 years.
Contact Us
Tel: +86(0731)-8401-8486
Add: No.19, Kaiyuan Rd, Xingsha, Changsha county