News
Organic chrysanthemum cultivation sees bumper profit in Changsha county
By Zhang Qiong and Xu Yinjuan (chinadaily.com.cn)
Updated: 2014-11-12
Changsha Longping Organic Agriculture Company is a local enterprise in Changsha county that specializes in chrysanthemum planting. Some of its high quality chrysanthemum products, after a process of picking and drying, can be sold at a price of more than 20,000 yuan ($3,267) per kilogram.
The organic chrysanthemums are very popular on the market. But to cultivate fine chrysanthemums is quite difficult, and the climate plays a decisive role.
According to Gao Yibo, head of Longping Organic Agriculture Company located in Jinjing town, too much rain drowns the plants and lack of water may make them too dry. But a greenhouse cannot be a choice as they are never home to high-quality chrysanthemums.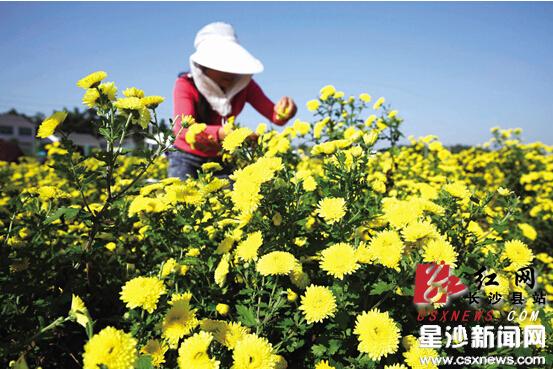 A worker picks chrysanthemums in a planting base in Jinjing town, Changsha county, Central China's Hunan province. [Photo by Kang Zihong/csxnews.com]
The flowering time is in the beginning of November, and lasts about 10 days, said Gao. If rain hits before workers have picked all of them, the chrysanthemums will become valueless.
Disinfection is also very important in the growing process. Organic planting puts higher demand on the use of pesticides. Gao adopted disinfection patches and a new type of biological pesticide for his planting base. Different from traditional pesticides, the biological pesticide is refined from some plant stimulants, including garlic and pepper.
Many procedures need to be done through manual labor before the chrysanthemums are ready for sale, said Gao, which makes the cost very high. In turn, the price of chrysanthemum tea is correspondingly higher. Some exquisite tea is valued at more than 20,000 yuan per kilogram, and even those with the worst quality can be sold at more than 200 yuan per kilogram.
The organic chrysanthemums are mainly sold to major metropolises such as Beijing, Shanghai, Guangzhou and Shenzhen.
In recent years, the local government has sought to revive the region's long tradition in porcelain making and boost local industry with the cultural influence of ancient Tongguan kilns, which have a history of 1,200 years.
Contact Us
Tel: +86(0731)-8401-8486
Add: No.19, Kaiyuan Rd, Xingsha, Changsha county