News
Newly-developed asparagus tea applies for national patent
By Zhang Qiong (chinadaily.com.cn)
Updated: 2014-09-24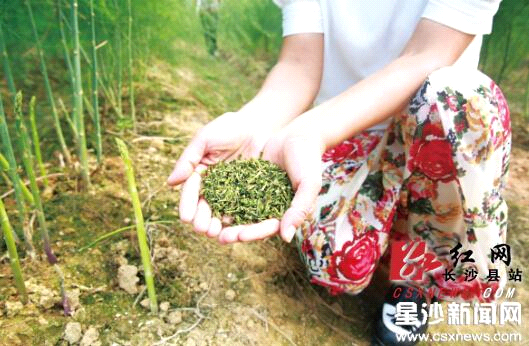 A staff member of the Changsha county asparagus base shows off asparagus tea. [Photo by Kang Zihong]
People tend to think that drinking tea means drinking black tea or green tea. But Hunan Gland Asparagus Development Co, located in Gaoqiao town, Changsha county, has creatively developed a new kind of vegetable tea - asparagus tea. Now a national patent is being applied for the tea, Xingsha News reported.
The vegetable tea in the asparagus planting base of Gaoqiao town looks like an herb but smells fragrant. "When the asparagus branches stretch and the auxiliary buds on the branches cluster together, you can pick them off and knead them into tea through fixing, rolling, drying and some other processes," said Yi Jingtao, manager of the base. She said that the asparagus tea has a "clear soup, green leaf and strong odor" as it retains many of the natural substances of asparagus auxiliary buds. "The asparagus tea contains more than 400 kinds of compounds, including nutrients necessary for the human body and ingredients with health benefits," Yi said.
"Drinking asparagus tea regularly can not only supplement many vitamins, proteins, amino acids and mineral elements that are necessary to the human body, but also help to stabilize blood pressure and lower blood fat." Yi also said that a national patent is being applied for the asparagus tea she developed, and she is confident about the prospects of the tea.
In recent years, the local government has sought to revive the region's long tradition in porcelain making and boost local industry with the cultural influence of ancient Tongguan kilns, which have a history of 1,200 years.
Contact Us
Tel: +86(0731)-8401-8486
Add: No.19, Kaiyuan Rd, Xingsha, Changsha county