Attractions
Changsha Ecological Zoo

Updated: 2014-07-28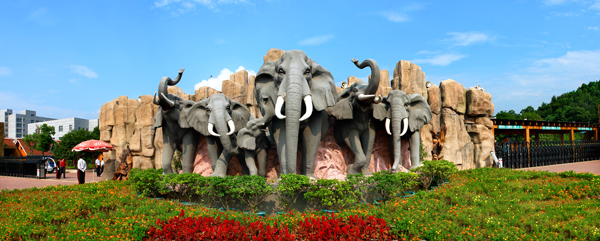 Changsha Ecological Zoo
This zoo is in Muyun town, Changsha county, on a junction between the cities of Changsha, Zhuzhou, and Xiangtan, in a national experimental resource-effective, eco-friendly society development zone.
It is conveniently located near Furong South Rd and the Changsha Highway, next to a railway station. Those wanting to drive here will need only about 30 minutes from the downtown area of those cities.
This zoo was known as the Changsha Zoo for 54 years, until October 2010, when the current site, with 247 acres, was reworked by prominent Chinese and Japanese designers in accordance with global standards. The park has a pedestrian area, parking area, science education area, natural scenic area, a leisure and entertainment area, as well as tourist services. It contains more than 300 types of animals in 37 zones or farms.
In recent years, the local government has sought to revive the region's long tradition in porcelain making and boost local industry with the cultural influence of ancient Tongguan kilns, which have a history of 1,200 years.
Contact Us
Tel: +86(0731)-8401-8486
Add: No.19, Kaiyuan Rd, Xingsha, Changsha county