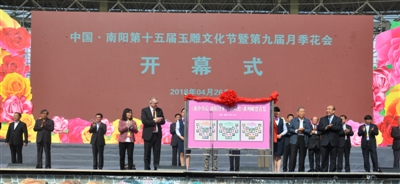 The 15th Nanyang Jade Carving Cultural Festival & 9th Rose Fair opens in Nanyang on April 26. [Photo/Nanyang Daily]
The 15th Nanyang Jade Carving Cultural Festival & 9th Rose Fair opened in Nanyang, central China's Henan province on April 26. It offers visitors an eye feast of magnificent jade carvings, while taking in the enchanting rose fragrance.
A National Boutique Jade Carving Exhibition, which will run until May 3, earmarks a dedicated area at Nanyang Stadium displaying 300 boutique jade carvings. They are created by world-class masters including Fan Junmin, Guo Wen'an and Pang Ran, who represent the highest level in the country.
In contrast, excellent jade carvings from 23 rising stars are also on display in the pavilion nearby, aiming to provide a fresh prospective and encourage young talents. Also featured are winning pieces of Yuhua Award and 150 jade carvings made of 30 rare materials from around the world, including Hetian and Youyan jade.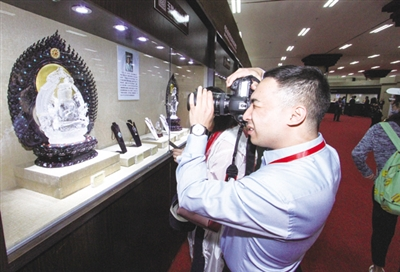 A visitor takes photos of the boutique jade carving on display. [Photo/Nanyang Daily]
Towards the east of the Nanyang Stadium, there is a jewelry and jade trade fair, which has a great number of merchants and Yunnan, Liaoning and Guangdong are the provinces that have signed up for the exhibition. Nanyang native jade products are popular among the customers.
For those who are not able to make it to Nanyang, eight anchors will display the jade products and the jade culture will be popularized among them via a live broadcast. Nowadays, more and more jade merchants catch up with the trend and sell their products via live streaming. As of 3 pm, the turnover had exceeded 8,000 yuan ($1,263).
China Rose Garden, the major venue of the 9th Nanyang Rose Fair, has put more than 1,200 varieties of roses on show. Some of them are monochrome roses in pink, white or pastel yellow, while the others are rare species featuring assorted colors.
The festive atmosphere will be further enhanced by a flower arrangement competition, calligraphy and painting exhibition of potted roses as well as the release of the postage stamp themed "Queen of Flowers • Rose of Nanyang ".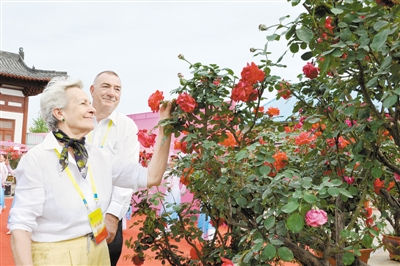 Foreign visitors admire the blooming roses. [Photo/Nanyang Daily]