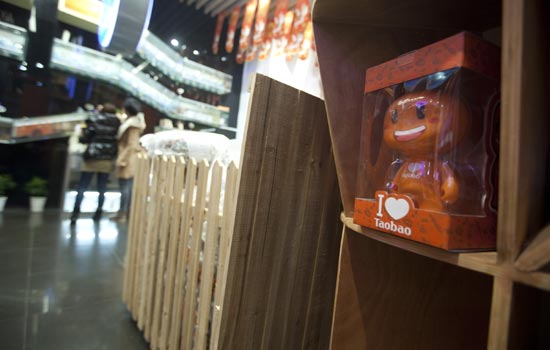 A Taobao.com toy at the headquarters of Alibaba Group Holding Ltd, the parent company of Taobao, in Hangzhou. [Photo/Agencies]
Alibaba Group Holding Ltd, the e-commerce giant, has fired the latest salvo across the bows of its main rivals, with the launch of a book-selling service through its subsidiary Tmall.com.
The new online service will go live on Thursday, promising 1.3 million titles, Alibaba said, through more than 1,000 online booksellers that market their stores on the site, putting it head-to-head with competitors including bookseller-turned e-commerce operator E-Commerce China Dangdang Inc and the Chinese branch of Amazon.com Inc.
Tmall will provide reference books, novels, and business-related books online, and its main customers are aged between 20 and 35.
The group's family of Internet-based businesses have already launched similar new expansions online, including home appliances, online travel and group-buying business, taking full advantage of its size to challenge established players in those sectors.
Industry watchers said they were looking forward to witnessing some fierce competition, as the main players fight for their share of what is already a cut-throat online book marketplace in China.
"This latest move by Tmall aims to fend off the challenge of 360Buy.com, its most equivalent rival in terms of revenues," said Qiu Lin, an Internet stocks analyst at Guosen Securities in Hong Kong.
"It (the launch of Tmall's book store) will at the same time intensify competition in the online book sector, and have an effect on Dangdang and Amazon China," he added.
The latest move by Alibaba continues the trend toward creating all-encompassing business-to-consumer websites, both in China and globally.
The change has resulted in fierce price wars breaking out among rivals, which for Alibaba here also include the e-commerce site of Suning, the home appliance seller, as well as Dangdang and 360Buy.com.
But the move to cover every retail angle doesn't come cheap.
Dangdang, for example, has racked up losses of more than 300 million yuan ($47 million) since the second quarter of last year, according to its financial reports, partly because of aggressive cuts in prices to fend off rivals.
Reacting to Tmall's entry into the book sector, Guo He, Dangdang's public relations director, said his firm was worrying "more about fewer people reading books than which e-commerce website they go to".
According to retail research company Analysys International, Dangdang had a 29.4 percent share of the book market among business-to-consumer players in the first quarter, just ahead of Amazon China's 27.5 percent stake.
Joe Tsai, chief financial officer of Alibaba Group, said the average margin of all of the group's units is more than 40 percent, according to a recent Wall Street Journal report.
For Taobao and Tmall, the country's two biggest online shopping websites by sales, average margins exceed 50 percent, he said.
Tmall generates revenue from advertising and commission from sales on its website.
chenlimin@chinadaily.com.cn