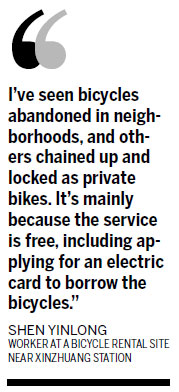 Free bicycles made available for subway commuters in Shanghai are disappearing at the rate of one a day.
The city's southwestern Minhang district began lending bikes to metro passengers in 2009 and had an initial stock of 19,000 at 574 sites.
Since then, however, nearly 1,000 have been lost or stolen, according to Wan Huqing, director of the traffic administration of Minhang's construction and transport commission.
A worker at a bike rental site near Xinzhuang Station on Line 1, who identified himself only as Ji, said about 80 percent of his 1,000 bikes are lent and returned at his station every day during morning rush hour.
"I've seen bicycles abandoned in neighborhoods, and others chained up and locked as private bikes," he said. "It's mainly because the service is free, including applying for an electric card to borrow the bicycles."
People with a Shanghai ID card and a homeowner's certificate in Minhang can apply through their neighborhood committee for an "integrity card", which is used to borrow the bikes. So far, almost 230,000 people have signed up for the service.
Riders can swipe a card on a machine to release a locked bicycle and return it to any site by swiping the card.
New cards have 100 credits, and bikes must be returned within an hour. If a rider fails to return a bike within that time, 10 points are deducted from the card.
"Some people keep a bike because they think it's troublesome to reactivate a card after it becomes invalid with zero credit," said Shen Yinlong, who works at another bicycle rental site near Xinzhuang Station.
Caretakers of the bikes are inventing methods to keep the loss rate from growing.
Zhang Jian, a caretaker at a site on Xinsong Road 3 km from Xinzhuang Station, said he saw some riders leave bicycles at the side of the road if they found no vacancies when they wanted to return them.
"So we lock up those bikes with a chain overnight and put them back in service the next morning," he said.
Many residents say measures should be taken to discourage the theft and discarding of the public bicycles.
"I think it would help to charge an annual fee to limit abuses. This free service overestimates the goodwill of the resident," said Wang Zheng, a resident who uses the bicycles daily.
Government agencies are considering asking for deposits to deter people from keeping bicycles and to stimulate the users' sense of responsibility.
"A 200 yuan ($30) deposit might become mandatory when applying for a card, and people who don't return the bikes within an hour would be charged," Wan said, adding that the new policy might come into force in the latter half of the year.
Hangzhou, the capital of Zhejiang province, has had a bicycle transport system since 2008 that requires a 200 yuan cash deposit, almost the cost of the bike.
That city has 60,000 bicycles being used by the public and reports a zero loss rate.
"I believe this is a smart and necessary practice to keep the public bicycle project going in the long term," said Ma Fenfen, a Minhang resident who takes the subway round-trip between her home and downtown office daily.
"The public bicycles are very popular, especially since folding bikes are no longer allowed on the subway," she said.
(China Daily 06/05/2012 page5)