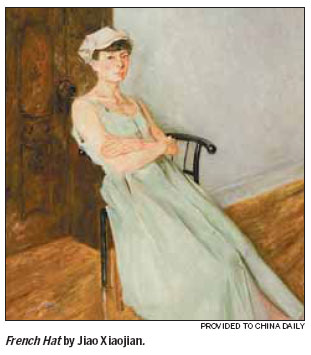 Jiao Xiaojian's works focus on the relationship between sight and perception in his portrayals of ordinary scenes of southern China. Zhang Zixuan reports.
The vividness of 56-year-old Jiao Xiaojian's eyes match that of the works displayed in his first solo exhibition, Eyes of Things, at the Chinese Academy of Oil Painting in Beijing.
The oil painting instructor at the China Academy of Art in Zhejiang province's capital Hangzhou places before the eyes of viewers 126 oil paintings and sketches he has created from 1995 to 2011 - none of which even his closest friends have seen before.
He paints the simplest everyday scenes of Hangzhou that many might find too trivial to frame. Such imagery includes multiple versions of the same subjects, including his wife, garlic cloves, a particular tree and dilapidated rooftops seen from his window.
He says it was a weighty decision for him to stage his first solo exhibition based on such a concept - one he finalized after visiting exhibitions in the US and Europe.
"It's so convenient for people to 'see' in such an advanced age of imagery, but it's difficult for them to capture the instant beauty at the moment they see," Jiao says.
Jiao creates in his dorm in Jingyun village near Hangzhou's West Lake and his studio on Town God Hill.
But tourists only snap photos of the colloquially named "Ten Scenes" surrounding West Lake, Jiao says. And that bores him.
"So, I want to capture the beauty of the simplest things in my paintings," he says.
"A painter's sole duty is to paint. That's what makes me happiest."
He believes the key is to be led entirely by sight and not by analysis. This idea, he says, was inspired by his favorite French Post-Impressionist painter Paul Cezanne (1839-1906), who professed a desire to capture the truth of perception, using the direct expression of the eyes' sensations.
But Jiao believes vision is sometimes an unwitting trickster that can be influenced by environmental factors and subjectivity.
"Some things you believe you see - but, actually, you don't," he says.
"Often, what I actually see and what I imagine fuse."
For example, he saw his wife's pink bathrobe hanging on a clothes rack, but the completed painting showed his wife wearing the bathrobe. Other times, he found buildings bending inward, as they would appear if viewed through a telescope.
"This is both the most arduous struggle and most wonderful component of creation," he says.
He is a self-professed follower of Phenomenology, a 20th-century philosophy that examines the relationship between reality and consciousness.
"That's why I reject both perfect copies and overly personalized expressions," he says.
He refers to his "conditional representational painting style" as "illumination" rather than replication.
"Art creates a new world that illuminates real life," he explains.
While Jiao remains consistent in his themes, he experiments boldly with techniques. He sketches with Chinese ink, and his works' textures have morphed over time.
China Academy of Art oil painting department director Yang Canjun says he initially believed Jiao's skills were insufficient.
"The perspectives are wrong and the faces appear flat," Yang says.
"But looking over the works, I realize today's art world doesn't lack sophisticated skills or dramatic tension. What's missing is the true inner feeling of the human body that's generated by sight. Jiao is a real artist who thinks by way of vision."
Celebrated artist Chen Danqing says he envies this about Jiao.
"He deals with himself and painting perfectly," Chen says.
"He infuses Cezanne's influence with his unique and poetic interpretation of southern China's aesthetics."
Dean of the Chinese Academy of Oil Painting of the Chinese National Academy of Arts Yang Feiyun puts it this way: "You are what you paint. Jiao's paintings are consistent and demonstrate his first-class moral character. He truly respects painting and is like a clear stream in an overly glitzy art world."
Contact the writer at zhangzixuan@chinadaily.com.cn.
(China Daily 05/25/2012 page22)