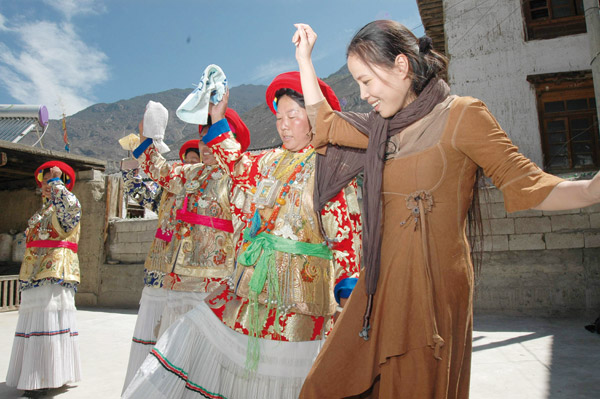 Zhu Zheqin learns Tibetan dances during her UNDP journey to western China's remote regions. Gao Yuan / For China Daily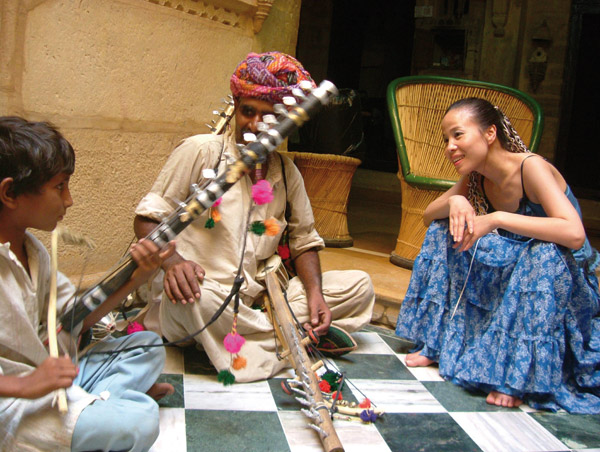 Zhu Zheqin visits folk musicians during her trip to India. Provided to China Daily
Zhu Zheqin, or Dadawa, has found peace at her new studio in Hangzhou and a new lease on her musical life. Chen Nan reports in Beijing.
Like many musicians, Zhu Zheqin, known as Dadawa in the West, loves being on the road. Traveling fascinates and musically inspires her. Since her 1995 debut album Sister Drum, which drew influences from Tibetan folk music and sold more than 3 million copies in 56 countries, she has been associated with the music of indigenous cultures.
After the 1997 release of Voices from the Sky, she took a decade-long break to travel the world. She visited the Americas, India, Israel and Africa. Now, the 40-year-old musician is sticking to the studio.
Zhu's new studio is located among the mountains of Li'an Temple, which has a history of 1,100 years, in Hangzhou, capital of Zhejiang province. It opened on April 28.
The temple, which was rebuilt in 2002 at its current site near the Xixi Wetland, was formerly known as Fayu Temple and became a royal temple during the Southern Song Dynasty (1127-1279).
Zhu says she felt a sense of peace when she first visited the temple. "It is a tranquil place, which makes me imagine things. Sitting in the mountains, I feel like a person from ancient times. I can play music, drink tea and meditate there," she says.
Hangzhou's rich history and culture of Buddhist music and yayue, or traditional Chinese court music, also fascinated the musician for years.
In 2002, when the Hangzhou government decided to rebuild Leifeng Pagoda as one of the 10 famous sights at West Lake, Zhu was invited to produce music for the project.
Originally constructed in AD 975, Leifeng Pagoda is well known because of the legend of the White Snake, which inspired Zhu to create music for the pagoda. Now, her music, which is heavily influenced by Buddhist chants, is enjoyed by thousands of tourists from all over the world.
Zhu says she plans to open up the studio to musicians and share her musical ideas with others - the "sharing mind", as Zhu puts it, which came to her as an idea after her 40th birthday.
Before that, she admits to living in a world of her own music, never talking about her personal life and rarely making public appearances.
"I have been everywhere I wanted to go, and I have everything I want. I thought that my life after the age of 40 would be peaceful and even dull. But now I feel reborn and have new musical goals," she says.
The new chapter of her life was ushered in by another traveling experience, which happened in 2009, when she was appointed as a goodwill ambassador of the United Nations Development Programme (UNDP) and visited the remote regions of western China.
The four-month journey was not like any others she had experienced. The 20,000-km trip with 10 others involved gathering music from remote areas in Yunnan, Guizhou and other provinces.
"I used to be a traveler or an observer, but in those days, I felt like a member of the tribes. The responsibility to keep their culture alive fell on my shoulders," she says.
It also changed her mindset about making music.
"For a long time, I've had a stable formula for making music, from composing to editing every piece. However, when I actually went to watch the dancing and listen to the music of various ethnic groups, I melted. There is no formula to music," she says.
Her UNDP journey also inspired her to create the show Hearing the World - Dadawa and Ethnic Musicians, which has been staged in five cities since 2010.
In the show, Uygur, Tibetan, Kazak, Mongolian, Miao and Han musicians perform in harmony, enjoying one another's music. Traditional instruments, such as the guzheng, or Chinese zither, mouth harp and horse-head fiddle appeared onstage.
Also featured were the haunting "flying songs" of the Miao people of Guizhou province, the dombra, or Kazak lute, and the music of the Dong people, whose 3 million members are scattered in the border areas of Hunan and Guizhou provinces, and the Guangxi Zhuang autonomous region.
"Their musical roots are deep in their cultures and the geographical environment they live in. Everything is irreproducible," she says.
Her new album, a double CD recording of the concerts, will be released in 2012.
Rather than just preserve the old, she is enlivening it with her sense of creativity. She says it is time to build "created in China" and not just "made in China".
"Now the world is looking at China, and we don't want to show them a copy of other cultures - just our own unique ones," she says.
Though her cooperation with UNDP has ended, she wants to continue bringing ethnic music to the stage and find a commercially viable way to preserve the groups' music and crafts, such as embroidery.
As a student in Guangdong's provincial capital Guangzhou, Zhu won a TV talent competition in the early 1990s. The song she presented, A Story of the Crow, became very popular and she instantly had a pop career.
But despite finding herself on the fast track to stardom, she knew her musical career would, in the end, take her away from the mainstream.
"I have always had my own ideas. I imagined one day I would be a traveler," she says.
So she left the stage and she went to the Xinjiang Uygur autonomous region, where she met He Xuntian.
"She's not the greatest mover onstage, but she's a big shaker on the world music scene," He says of Zhu.
As Zhu's mentor, he opened a new door for the singer and produced Sister Drum and the rest of her albums.
She chose the name Dadawa because she was interested in Dadaism and Surrealism. Also, "dawa" means moon in Mongolian.
The Hangzhou studio, she says, is a continuation of her musical pursuits. Her mother's Buddhist chanting made her believe cultures are linked and forever changing.
"I didn't intend to break any styles or formulas," she says. "But the places I went to and the music I listened to led me here and to become who I am today."