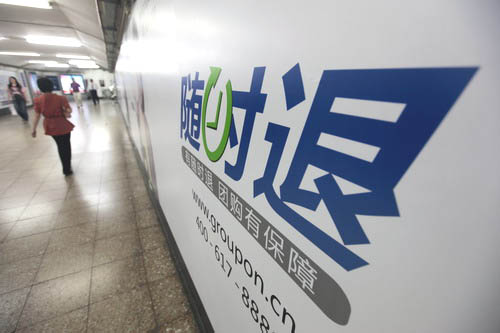 An advertising billboard featuring groupon.cn at a railway station in Beijing. Group-buying websites pumped more than 1 billion yuan ($159 million) into commercial advertisements in China last year but it didn't stop many from operating in the red. [Photo/China Daily]
Half of China's group-buying sites have shut down since the industry peaked and only 10 major players will survive an ongoing reshuffle, experts say.
A recent report from tuan800.com, a leading group-buying service navigation site in China, says that more than 2,000 of the sites in China closed in the past year. The top 20 sites occupied more than 96 percent of the overall market share, leaving 3,800 smaller players fighting fiercely for the remainder.
Tuangou, or group buying, aims to create unprecedented bargains by combining the reach of the Internet with the power of the mob. Sometimes following the crowd makes economic sense but at other times it is not a good idea.
While most clones of Groupon-like group-buying sites in China are based on the above rationale, they fail to address another critical issue: the linkage between their business and local vendors to advertise and deliver their services.
The number of group-buying websites hit 3,909 in December 2011, up from 2,630 in January last year, according to figures from China E-Commerce Research Center, an independent research institute based in Hangzhou, Zhejiang province.
The institute collected about 100,000 complaints related to e-commerce shopping last year, 25 percent of which involved online group buying, the report said.
The top complaint was about selling fake or non-existing products. On dn3t.com, a Nanjing-based group-buying website, avid buyers of Haagen-Dazs ice cream coupons found they were invalid.
"The website is closed. I was told by a Haagen-Dazs outlet that this is a complete fraud because they never partnered with any third-party sites," said a customer known only as Ms Yan, who bought two coupons online to sample the high-end dessert.
Similar cases occurred in Jinan, Shandong province, where consumers found the Pizza Hut coupons purchased online were not authentic.
Last year, gaopeng.com, a Chinese group-buying portal launched by Groupon Inc and Tencent Holdings Ltd, fired a vice-president after discovering that some of its employees were found to have cheated in an iPhone lottery on weibo, the Chinese version of Twitter.
A more common case is that while people get discounts on prices, they also get a discounted service, said Chen Shousong, an analyst with the research firm Analysys International.
"Usually group-buying services set a time limit for using the coupons and, in many cases, the service is not as good compared with a full-priced deal. It seems that you have to expend extra energy and time for the money you have saved," Chen said.
A successful group-buying model is more than just individuals seeking a good deal on a night out. The sites should see it as a new way to play the role of matchmakers for local businesses, Chen added.
That has in part driven an accelerated integration of smaller sites with bigger players, who usually maintain more consolidated ties with vendors. Last December, e-commerce giant Alibaba Group Holding Ltd announced its group-buying site, Juhuasuan, will serve as an open platform for other sites to sell their goods.
Small and medium-sized operators, such as manzuo.com, 55tuan.com and ftuan.com have recently joined the Juhuasuan platform, providing discount coupons for services ranging from catering to entertainment.
Juhuasuan, meaning group bargains, is also striving to set a standard for the group-buying industry. It plans to introduce measures such as protection of customer rights, price monitoring and third-party quality supervision.
"Juhuasuan's open platform will help integrate useful resources and squeeze out market bubbles," said Su Huiyan, a senior analyst with iResearch.
"Localized services, from restaurant coupons to movie tickets, will be a huge market and may account for transactions worth billions of yuan in the coming few years," said Yan Limin, general manager of Alibaba's group-buying business.
More group-buying sites are offering services rather than physical merchandise such as clothes or electronic devices. Up to 86 percent of revenue generated via group-buying deals is attributed to local services, said the tuan800 report.
The rise of dianping.com, China's largest dining and review site, has gradually shifted from its review-based model to offer group-purchasing services.
hewei@chinadaily.com.cn