HANGZHOU, China - Chinese vice premier Hui Liangyu declared open of the Eighth National Para Games in Hangzhou here at an almost two-hour opening ceremony here on Tuesday.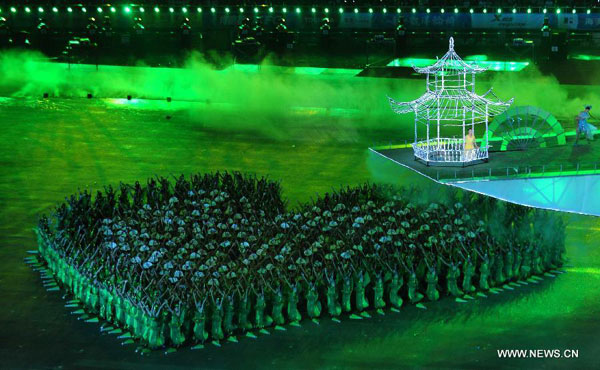 The opening ceremony of the 8th National Games for the Disabled is held in Hangzhou, capital of east China's Zhejiang Province, Oct. 11, 2011. [Photo/Xinhua]
The national para-Games attracted more than 5,000 athletes from 35 delegations in all including Hong Kong and Macao Special Administrative Regions.
The eight-day Games also features 18 sports mainly in Hangzhou and its neighbouring cities like Jiaxing and Shaoxing. Among them, six sports of archery, basketball for the deaf, cycling, rowing, wheelchair fencing and football 7-a-side have concluded their competitions in June and July this year.
The Chinese have a tradition of knocking bells to pray for luck. With praying tolls of every famous sight spots in 11 cities rang, the eighth National Games of Disabled opening ceremony began.
The "Flame of Red Boat" was collected from South Lake in Jiaxing on June 30, from which Chinese Communist Party originated. The torch relay began from September 22 in Zhejiang province, before gathering in capital Hangzhou in the opening ceremony when the "Flame of Renovation, Flame of Bloom, Flame of Beauty, Flame of Serene, Flame of Vigor" merged together.
Walking horizontally straight along a 3D-projected athletic track on the wall of 87-meter-tall north tower in the Dragon Sports Center stadium from the base, Paralympic javelin champion Sun Changting, lit the main cauldron.
Wu Juping, "the most beautiful mother" who cushioned the fall of a two-year-old girl who plummeted 10 floors from an apartment, also attended the opening ceremony as one of the eight Love Ambassadors.
To enhance participation and popularity of disabled sports, organizers added three events, table tennis for the blind, chess and darts, in this edition. In the meanwhile, rowing was firstly adopted as a formal competition event to help preparing for London Paralympics next year.
In romantic means, Hangzhou is to China as Venice to Italy. With too many sentimental love stories appended on the city and its landmark West Lake, Hangzhou was not only entitled as "the heaven on earth", but also adored as a popular resort.
The World Heritage Committee inscribed the West Lake Cultural Landscape of Hangzhou in China on UNESCO's World Heritage List as a cultural property in Paris on June 24, 2011.
The Chinese National Games of Disabled was inaugurated in 1984 in Anhui Province in downstream Yangtze River in China. Since the third version in 1992, it was regulated to be held every four years.