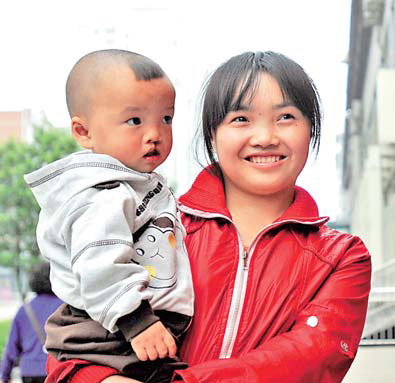 Hong Zuqin from Majiang county of Guizhou province carries her child, born with a cleft lip, to Kaili. Professionals from Operation Smile Charity Hospital provided free surgery service for cleft-lip patients during a six-day medical mission in Kaili early this year. To mark Operation Smile China's 20th anniversary, the charity organization will carry out 26 medical missions across China this year. Provided to China Daily
BEIJING - How long does it take to change the life of a child born with cleft lip? Forty-five minutes is the answer from Operation Smile, a US-based nonprofit organization dedicated to providing free medical treatment for underprivileged children who have cleft lips and other facial deformities.
The 45-minute surgery costs approximately 5,000 yuan ($780), covering primarily the medical expenses, because the surgeons work as volunteers and charge no fee.
Children born with a cleft lip or cleft palate, especially those from financially disadvantaged families, always attract social attention.
Chinese people may be more familiar with the Smile Angel Foundation, a Beijing-based charity affiliated with the Red Cross Society of China that was founded in 2006 by pop singer Faye Wong and her husband Li Yapeng to help Chinese children with clefts lips.
However, long before Smile Angel was established, Operation Smile had already come to China.
Operation Smile first came to the country in 1991, to the Hangzhou Plastic Surgery Hospital, nine years after it was founded in the United States. During this mission, 187 patients received free medical treatment, and a symposium was held among the local medical professionals and international surgeons and experts, laying the foundation for Operation Smile's running model in China. After this, Operation Smile China was born.
Operation Smile treats children and adults with a cleft lip or cleft palate. The oldest patient to date was a 73-year-old man from the Xinjiang Uygur autonomous region.
"Actually, we've cured three generations, the grandparent, parent and child, each born with a cleft lip," said William Magee, executive chairman and co-founder of Operation Smile, who is also a highly respected plastic and craniofacial surgeon.
"It's amazing that somebody has to live his whole life like that. They become imprisoned in their own body, and it must be terrible," he said. Often, these patients have no access to medical treatment, he said, and they never engage in society because of the prejudice and superstitious assumptions of people around them.
By working with doctors and people from different areas, sharing with millions of people the message of what these patients endure, more and more people are being educated every day, and that will bring about change, Magee said.
"So the long-term benefit is not just about the child. It's about bringing people and nations together through those children," he added.
About one in every 600 babies in China is born with a cleft lip - 35,000 new cases every year - according to Operation Smile estimates.
Operation Smile China opened a comprehensive care center, the Operation Smile Charity Hospital, in Hangzhou in 2007. It provides free care to people with cleft lips or cleft palates and their families, with trained volunteers and accredited medical professionals in fields such as plastic surgery, dentistry, speech pathology and social psychology. The center has changed the lives of more than 7,000 children to date.
"A single surgical operation is sometimes not enough to help a patient recover mentally and physically. That's why we offer a series of supplementary services to patients and their families," said Wang Linju, senior program manager of Operation Smile China.
To mark the 20th anniversary of Operation Smile's arrival in China, Operation Smile China will carry out 26 medical missions in China, following the route of the Long March, during which free surgeries and medical exchanges will be conducted.
The quality of medical treatment has always been Operation Smile's focus, and it has spared no efforts to guarantee that every patient will have high-quality surgery. It invites eminent medical doctors and experts from the US to perform surgery and to hold symposiums in China, with the aim of improving care for people with cleft lips in China. These foreign professionals come from top universities such as Harvard and Yale.
However, Operation Smile's focus has created several obstacles with its missions in China.
"When we bring medical equipment through customs, everything has to be exactly as the records on the document state, which usually takes a lot of time for customs clearance," said Kathleen Magee, co-founder and president of the organization.
"We usually have to spend three to six months to prepare for a medical mission," said Wu Wei, managing director of the Operation Smile Charity Hospital.
He added that every process has to comply with Chinese regulations, and foreign doctors have to get temporary licenses to perform surgery in China, which involves a large amount of effort and documentation.
Operation Smile China has to cooperate with different local hospitals to carry out its medical mission because it has to borrow their operating rooms and beds.
Wu said that since it just covers the expense of medicines and equipment, and offers hospitals a small subsidy, some hospitals decline its request to participate.
"But the charity atmosphere in society as a whole is developing rapidly, and it turns out that fewer and fewer hospitals have turned them down in recent years," he added.
China Daily
(China Daily 09/05/2011 page22)