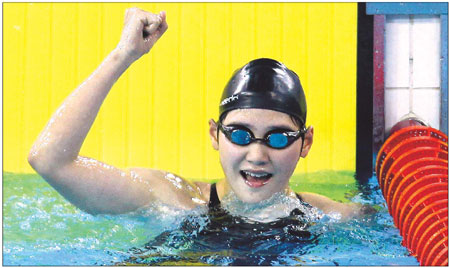 Fourteen-year-old Ye Shiwen of China celebrates after winning the women's 400m individual medley final on Sunday. Yang Shizhong / China Daily
GUANGZHOU - Bespectacled chess player Kim Tae-gyeong is a member of Republic of Korea's Asian Games team at the tender age of 11 - more than five decades younger than the oldest competitor in Guangzhou.
Age is no barrier at the 16th edition of the Games, where around 10,000 athletes are participating in 42 sports ranging from archery to xiangqi.
Swimming and gymnastics feature the usual clutch of youngsters but the greatest age disparities can be found in the hushed halls housing the chess and xiangqi competitions.
Kim is one of the three young children on the ROK chess team, along with 12-year-olds Lim Hak-yung and Byun Sung-won.
Ranked No 732 among active women players in Asia, Kim is only marginally younger than Chinese Taipei's xiangqi player Peng Jou-an, who celebrates her 12th birthday on the last day of the Games in southern China, on Nov 27.
Peng is young enough to be the granddaughter of fellow xiangqi player Lay Kam Hock of Malaysia, who at 66 was born seven years before the first edition of the Asian Games, held in 1951.
"Compared to me, every xiangqi player in the 16th Asian Games is older and also has more experience, so I feel a little nervous," said Peng.
"Actually, after the games it proves that all of them are better than me," added the youngster, who is taking part in the women's individual competition in xiangqi, a board game for two players similar to chess.
China has been dominant in the swimming pool in Guangzhou but it is the youth of emerging stars that is startling - and gives a headache to their rivals.
Fourteen-year-old Ye Shiwen powered to victory in the women's 400m individual medley on Sunday, beating relative veteran Li Xuanxu, 16, before turning her thoughts to the London Olympics in 2012.
The teenager from east China's Hangzhou city began swimming at the age of six after her kindergarten teacher noticed her large hands, the city's Qianjiang Evening News reported.
Following Sunday's win, Ye admitted her difficult high-level training has been hard to take.
"I have to put up with the training. Sometimes I can't bring myself to train, but I'm fighting for a better life for my family so I have to do this," she said.
Fellow teen Li was piqued at losing - especially to a girl two years her junior.
"This race was an opportunity for me to get a result from all the hard training, but it was not good and I lost to a younger opponent," Li said.
On Monday, yet another star emerged in 15-year-old Shao Yiwen, who took gold in the women's 400m freestyle.
Also in the pool, Qatar's water polo team is pinning their hopes on youth, fielding a team with an average age of less than 17, including Ali Allanjawi and Ali Abdeen, who both competed four years ago in Doha.
Abdeen created a sensation in 2006 when, at the age of 12, he became what is thought to be the youngest senior international in history.
And golf has a significant sprinkling of young talent with Macao's Ao Ka-wai taking to the fairways at age 13.
At the opposite end of the age spectrum, renowned Bangladeshi chess player Rani Hamid was born a month before Malaysia's Lay Kam Hock, in 1944.
Hamid has been British women's champion three times and was awarded the Woman International Master title by the World Chess Federation in 1985.
Shooting and billiards also have their fair share of veterans.
Even the more active dragon boating has a smattering of older athletes, with Singapore's Elise Lee Shi May, 49, and 48-year-old Chou Chi-man of Macao taking part, along with Chinese drummer, 13-year-old Xia Shiying.
Agence France-Presse
(China Daily 11/18/2010)