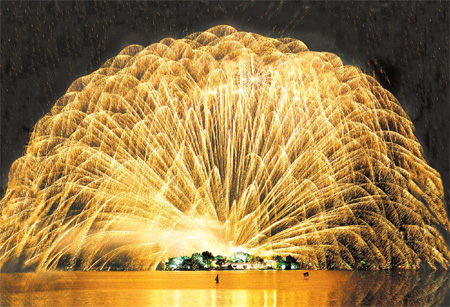 A fireworks display will be held by West Lake and the Great Canal during the West Lake Expo. Photos Provided to China Daily

The West Lake International Expo in Hangzhou, Zhejiang province, will be held next month in a bid to attract tourism and boost the local economy.
After the area's first expo took place in 1929, the would-be annual event was halted until just a decade ago, when local officials decided change was in order.
The expo has become Hangzhou's platform to develop the modern service industry and build a quality city, said authorities.
Highlighted at the event are international communication, trade and investment and brands promotion.
Last year's expo featured 124 conferences and exhibitions generating 13.8 billion yuan in trade revenue. Hangzhou attracted over 6.8 billion yuan in foreign capital and 13.2 billion yuan in domestic investment.
Exhibits covered nearly 1.35 million sq m, up almost 11 percent from 2008.
Low-income residents and community workers were targeted visitors, as local authorities gave out 24.5 million tickets and coupons for the event.
Sponsors collaborated with over 200 area businesses and government departments to hold themed evening parties, talk shows and art performances.
A grand fireworks display attracted 1.5 million citizens and visitors last year.
Going global
Also featured at last year's event were 64 international exhibition programs, accounting for 52 percent of all activities.
Nearly 23 percent of all booths represented global organizations.
The 2009 expo attracted 12.9 million participants, including foreign ambassadors and delegates. Mayors from 10 overseas cities attended a summit of international friendship.
More than 300 guests from 51 countries took part in a World Tourism Organization conference, while 280 global businessmen participated in recycling forums.
Sponsors organized eight press conferences in cities like Beijing, Shanghai and Nanjing. The 2009 expo generated more than 4,000 news reports, the most of any in its recent history. An official event website received 57.4 million visits.
Almost 25,000 volunteers took part in the West Lake Expo. Sanitation workers finished cleaning the lake area and surrounding roads in just four hours.
By Xu Xiao (China Daily)
(China Daily 09/27/2010 page22)