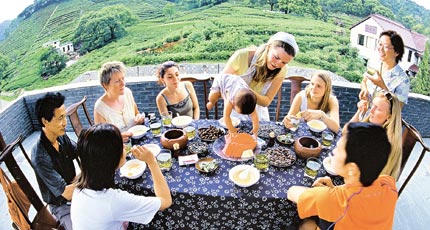 Tourists enjoy the Dragon Well (Longjing) tea on the roof of a tea farmer's house.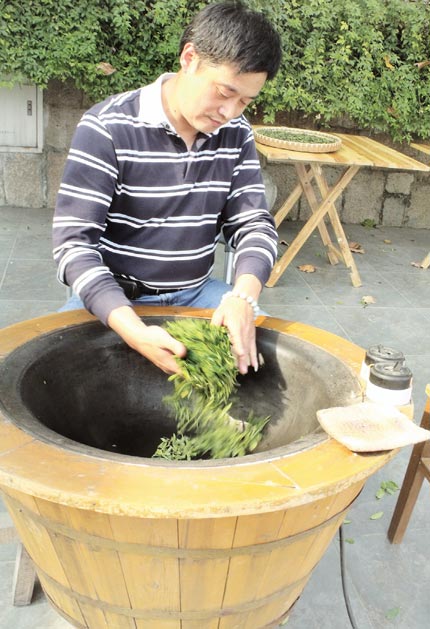 A tea expert checks the fresh green tea leaves at the China Tea Museum in Hangzhou.
Zhejiang Province is known for its health-giving green tea, and business is improving with local consumption and exports rising, encouraging farmers to expand their output, but competition is strong and profits are thin, Xu Wenwen reports.
The measure of Zhejiang's important role in China's tea industry is all in the figures. It boasts 10 percent of the country's tea-producing farms which yield 20 percent of its tea output. And these crops amounted to 30 percent of China's total tea output value last year, according to Zhejiang Province's Department of Agriculture.
Zhejiang has been at the heart of the Chinese tea industry since ancient times. More than 1,000 years ago, the "Sage of Tea," Lu Yu, finished his book "The Classic of Tea" ("Cha Jing") in Hangzhou and highly recommended Zhejiang's tea.
The province's specialty is green tea and one of the best-known brands is Dragon Well (Long Jing), grown in the hills surrounding Hangzhou.
High-grade Dragon Well is expensive and is often displayed like jewelry in luxury outlets. Its leaves, brilliant emerald green spears about 1.9 centimeters long, are renowned throughout China for their beauty.
Tea houses abound in this home province of green tea and it boasts more than 4,000 such outlets where residents can pass their time relaxing over a quiet sip.