Alongside economic development, extreme environmental damage was the price paid by Changxing county during its earlier growth period. Set near the Taihu Lake in Hangzhou, Zhejiang province, the area's local government and residents have been seeking to improve the environment over recent years and are now claiming to have made major inroads in this direction.
Over the past five years, Changxing has dedicated itself to establishing an environmentally-friendly community and focused on enhancing its green credentials through a number of high profile products, especially in terns of purifying the water running into the Taihu Lake.
Between 2005 and 2009, Carbon dioxide and SO2 emissions in the area decreased by 850 tons and 15,000 tons respectively. As well as high levels of reforestation, improved drinking water and a marked upturn in air quality have all been welcomed by the local community.
The production ratio of green and organic food also increased - from 6 percent in 2004 to 44.5 percent in 2008, whilst the output value of the region's high-tech industry increased from around 1.35 billion yuan in 2004 to around 15.13 billion yuan in 2008.
The Changxing people had now achieved considerable rewards thanks to the their renewed emphasis on the environment.
In March 2009, Changxing was honored as one of the leading "provincial ecological counties", due to the improvements in both its urban and rural areas. In line with its current achievements and future plans, Changxing is aiming to maintain its momentum and ensure a continued success in its ecological development in 2011.
Ecology-oriented county
With the adoption of its policy of establishing an ecology-focused county in 2004, the local Party committee and the area's local government have sought to promote a series of effective measures to accelerate its process of environmental improvement over recent years.
The local government has now taken all necessary measures to stimulate environmental awareness, including adopting the "Green GDP" assessment system. Every year, some 150 million yuan is now earmarked as part of the county's ecological construction.
The local government has also launched a number of events aimed at raising the awareness of the public in terms of establishing a "resource-conservation and environment-friendly society". Through various kinds of promotional activities, more and more people are now participating in a series of events to establish Changxing as an eco-friendly area.
Infrastructure construction has proved to be another crucial part of developing Changxing into an eco-friendly county. The major developments in this sector have seen Changxing establish a safe rural water supply network and a renewed emphasis on the classification, transportation and disposal of wastes, which now offer every household a more convenient and safer environment as a result.
Developing an ecological economy in Changxing has proved to be the major route to promoting ecological construction in the area. Since the latter part of 2007, high-tech mechanical and electrical industries with low pollution and lower energy consumption levels have become the key industries in the county.
As soon as the provincial government decided to regulate lead-acid battery manufacturing in 2004, Changxing began work on implementing this policy. Following considerable hard work, Changxing became a pioneer in this sector throughout the whole county in terms of quality, technology, skill base, branding, product research and development. At the same time, the county has also sought to enhance the regulation of its water polluting industries, notably in the dyeing and water-jet loom sectors.
Endless pursuit
In order to achieve its goal of establishing a national-level ecologically-oriented county by 2011, Changxing has strived to improve its ecological environment, cut down its energy consumption, direct its infrastructure applications, overhaul pollution and apply long-term management strategies where appropriate.
The county has also been keen to establish a number of ecological towns and villages. Through a variety of activities, including establishing "green families", "green schools", "green hospitals", "green communities", and "green enterprises", the whole of the county's society has become more aware of its ecological priorities and the need for sustainable construction.
Changxing is now committed to reducing energy consumption in order to establish a "resource-conserving and environmentally-friendly society", ensuring that the county combines energy saving with changes in economic development and industrial structure optimization and upgrading.
To further ensure the appropriate applications of infrastructure development for environmental protection and to achieve the overall goals of Zhejiang province in the building of sewage disposal facilities, Changxing has now restated its commitment to investing more in accelerating the construction of its sewer network and improving its efficiency in disposing of sewage.
The county will also take both regulation and supervisory issues into consideration, which should lead a reduction in agricultural non-point source pollution in rural area and the beneficial disposal and recycling of waste from poultry rearing.
Changxing will also seek to further improve its overall long-term management system. This will see it continuing to adhere to the leadership principle of the central government and its market-oriented policies. It also remains committed to pursuing its range of ecologically-friendly policies.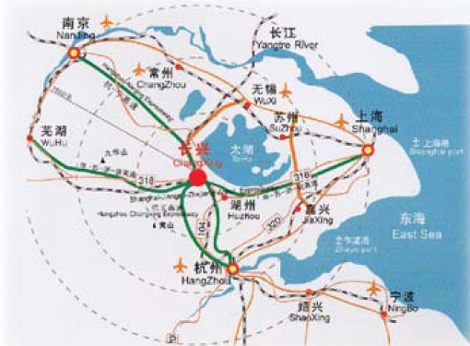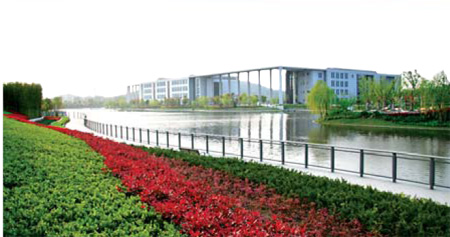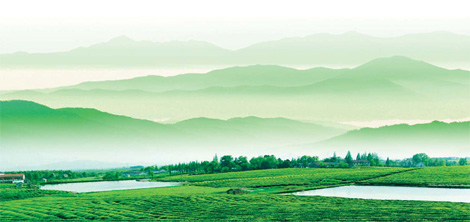 Changxing Requests Proposals for Strategic Input into the Construction of China's Ecological Model County.
(China Daily 01/28/2010 page24)