The music album "Impression West Lake" was recently nominated for Best New Age Album for the 52nd Grammy's.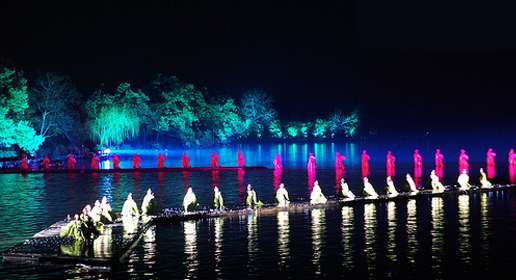 Impression West Lake is renowned Japanese composer Kitaro's soundtrack to the Zhang Yimou (Beijing Olympics Opening Ceremony) directed themed performance set in Hangzhou's West Lake.
Staged entirely upon the lake itself (a stage has been built three centimeters below the surface), Impression West Lake is a spectacle of light, music, dance and theatrics. The story is based on a Hangzhou legend of While Snake Lady. Using the lake and its surroundings as props, lights and hundreds of actors create a sensational performance.
Featured in the album is theme song for the show - Impression West Lake Rain by Jane Zhang. Jane has also recently performed the song live at Kitaro's concert.
Result will be revealed at the 52nd Grammy Awards Ceremony held on January 31st at Los Angeles' Staples Center.
By Li Hui