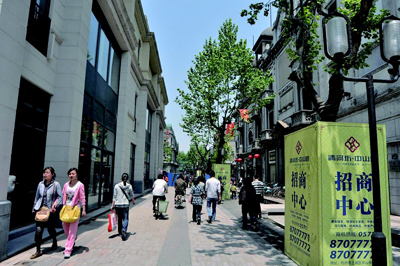 Sitting on the north to south axis of Hangzhou, Zhongshan Road is the original Royal Street of the Southern Song Dynasty. With grey tiles and white walls, the road is a live museum of traditional Hangzhou residence lifestyle.
As the commercial hub of Hangzhou since Song Dynasty, this street has been the birth place of the first generation of financiers and bankers of Hangzhou.
In an attempt to improve the life quality, on January 18th, 2008, Zhongshan Road Comprehensive Protection Project was officially started under the principle of "organic renovation".
The most distinctive feature of "organic renovation" is found in its respect for history and its compliance with the originality, integrity and sustainability of the street.
It attaches great importance to the protection of old houses, old businesses, old streets and old neighbors while reconstructing.
As such great efforts are taken to preserve old Hangzhou life style and custom.
The ancient renowned Zhongshan Road will reopen to the public in the end of September, 2009.
Editor: Liu Fang