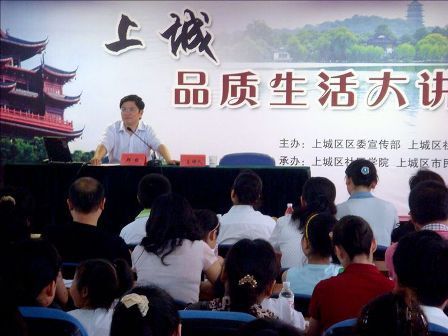 Shangcheng district was at the heart of the Southern Song Imperial dynasties.
Wuyue, is a central district in Hangzhou and the only district that embraces "West Lake time" and "Qiantang River time".
As Hangzhou has vowed to build "a city of quality life", Shangcheng district launched a campaign titled Quality Life International Experience Area.
The following is an interview with Xu Zue, the Secretary of Hangzhou's Shangcheng district.
Reporter: At present, Hangzhou vows to be a city of quality life, why does Shangcheng propose to build a life quality international experience zone?
Xu Zue: The main purpose of constructing life quality international experience zone is through the integration of regional resources to establish experience worthy urban living space for foreign friends to gain a better understanding of Hangzhou and ultimately increase Hangzhou's international popularity. Basically, the plan is proposed based on 3 reasons:
First, it is essential for Hangzhou to build itself as an international city of quality life. Shangcheng district as the showcase of historical and cultural resources of Hangzhou, should take major responsibility in the campaign. It has strategic importance on enhancing the core competitiveness and international image of Hangzhou, speeding up the pace of development.
The second is to increase the international appeal of Hangzhou in terms of tourism. Shangcheng district firmly grasp opportunities of the era to build a quality life international experience zone and made plans to integrate historical and cultural elements, leisure fashion elements, folk art elements and launch a series of high quality cultural and leisure international tourism products, which is very important in order to promote the overall quality of Hangzhou tourism and build Hangzhou as an international tourist hot destination.
The third is to build a quality of life in Hangzhou exhibition area. Shangcheng district is home to a rich historical legacy and is a major part of Hangzhou as a city of culture and history importance. In recent years, Shangcheng set the plan to build as a central district of international standard, which includes "rich culture, high end business, refined space, human traffic, quality life"
Reporter: As the district of the longest history of Hangzhou, Shangcheng is the district with the richest cultural legacy and the showcase Hangzhou's tradition and custom. Can you name some of Shangcheng district's advantage as a quality of life international experience zone?
Xu Zue:: Shangcheng district is home to some of the most well known travel spots, such as West Lake and Wu Mountain. Not only renowned for its beautiful natural scenery, Shangcheng district is also a live museum of Hangzhou folk customs and owns half of the national heritage conservation units and accounts for 2/3 of historical districts and 1/2 of historical neighborhoods.
Shangcheng also has entertainment facilities, such as cinema, gym, KTV, on Hubin road, Yan'an road and Qingchun Road. Hubin Street has been a hot spot for high end fashion mean. Nanshan Road Fashion Street and Hubin road are now matured. , Stanching district annually holds "Wushan Temple Fair", "Wu mountain big cup tea", "Lantern Festival", "Qianjiang tide observing" and other civil activities.
The creative industry in this district is also emerging. China Academy of Fine Arts as the center together with West Lake creative valley, Kaiyuan 198 and Creative hefang, at present, Shangcheng district has been a cradle for creative industry. University of Science and Technology Parks, Incubators area of creative industries, creative industry exchange area and leisure areas are also under development.
In addition, Shangcheng also has abundant commercial resources, active community culture, convenient transportation, and traditional residential dwellings. Experience center would offer both local residents and tourists a cultural feast and also a visual feast.
Reporter: What is Shangcheng district's plan for 2009, the starting year for the "quality life international experience center" campaign?
Xu Zue: In the starting phase of the campaign, Shangcheng made the layout of one axis, 6 villages, 5 areas and 10 lines – to integrate the 700 experience spots to display the culture and tradition custom of Hangzhou. Experience the city in the start-up phase of construction will be in accordance with the "one axis, the six villages, the Five Dynasties and Ten line," the basic layout, in 2008, carding seven major categories of nearly 700 points can be the basis of experience, will be mature experience resources into a string of points, lines, into a chain of beads, design history, culture, fashion leisure, creative industries, customs, public life (in community activities) and other main lines of the experience. Shangcheng district would also issue experience guide, experience map and experience company to guide the visitors. In April, Shangcheng quality life international experience center was officially opened up with the kicking off of Hangzhou Life Quality Citizen Experience day and Hangzhou Life Quality International Experience day.
Reporter: A major part of experience center is to experience life, how do you increase public involvement?
Xu Zue: During the construction of the experience center, we focus on embodying distinctive Hangzhou characters into the experience and meanwhile we also pay special attention in visitor involvement. For example, at Qinghefang fork art display area, visitors don't only can see more than 30 fork art performances, like clay sculpture, paper cutting, sugar blowing, eggs carving, Python, Jiangshan cloth tiger, glass blowing, shadow carving, they can also participate in the performance.
Reporter: Is there any plan for Shangcheng district's go global ambition?
Xu Zue: We have made a 3 phase plan. Phase one, from 2008 to 2009, we plan to integrate resources available now and increase public recognition through mass media and activities like Life Quality International Experience Day. In phase two from 2009 to 2010, we would push the campaign further. On way hand we'll reserve our rich history heritage. On the other hand, we'll increase public involvement to attract more visitors. In phase 3 from 2011 to 2013, we'll focus on the international recognition of Shangcheng district as Hangzhou would go global.