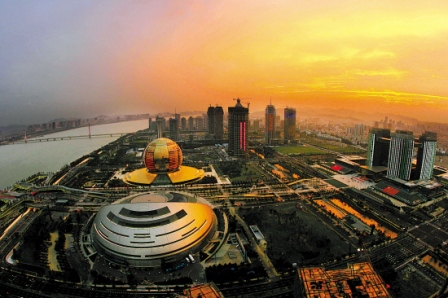 The Hangzhou Qianjiang CBD is located in the southeast side of downtown Hangzhou, next to the Qiantang River. It is 4.5 km away from the West Lake Scenic Spot and 18 km from Xiaoshan International Airport. The Fuxin district lies to its south, Qiutao Road to its west, and the Third Qiangtang Bridge is to its north. It has a total area of around 15.8km2.
The central area of the Hangzhou CBD (total area 3.29 km2) will serve as Hangzhou's future business, political and cultural center. Overall development plans include 650m2 of Grade-A offices, hotels, shopping malls and luxury residences.
Construction of the Hangzhou Opera House, Wave Culture Center and Hangzhou International Exhibition Center will be finished in succession. According to Hangzhou Government's overall plans, there are 140 m2 of luxury residential buildings under construction in the Wangjiang and Canal sub-districts. The Hangzhou Government Office was completed in 2007.
As the center of Hangzhou, convenient transportation will benefit future development of the Hangzhou CBD. MTR line 1 will pass through the area, with a station next to Hangzhou MIXC, and construction of the Qingchun tunnel, which began in 2006, is estimated to be completed in 2009.