Tianjin - Second-half goals by Abby Wambach, Shannon Boxx and Kristine Lilly put the United States into the semifinals of the Women's World Cup with a 3-0 victory Saturday over England.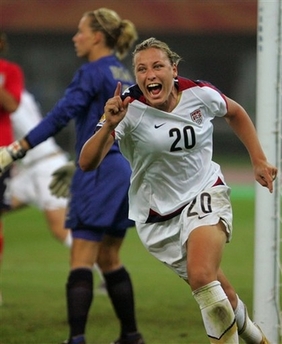 Abby Wambach of the United States reacts after scoring the first goal against England during their quarter final match at the 2007 FIFA Women's World Cup soccer tournament in Tianjin, China, Saturday Sept. 22, 2007. [AP]
Three goals in 12 minutes broke open a tight game and extended the top-ranked Americans' unbeaten streak to 51 games in almost three years. It left England winless against the United States in 19 years as the Americans seek their third World Cup title.
The United States will face the winner of Sunday's quarterfinal between heavily favored Brazil and Australia. The semifinal match will be Thursday in Hangzhou with the final on September 30 in Shanghai.
In Saturday's other semifinal in central Wuhan, Germany defeated DPR Korea 3-0 and will play either Norway or China in the semifinals.
Wambach banged in a header in the 48th, directing home a corner from Lilly. It was her fourth of the tournament.
"The first goal is always critical in a match," American coach Greg Ryan said. "It was difficult for England to get their game going again after that. They lost the momentum and we kept pressing, going after them."
"It's very difficult to play from one down. It was great we were able to put in one and then two others fairly quickly."
Midfielder Boxx made it 2-0 in the 57th. She stripped a ball near midfield from England's Jill Scott and scored on a long-range shot, the ball going in off the fingertips of surprised England keeper Rachel Brown.
In the 60th, American captain Lilly finally broke through with her first goal of this tournament -- and her eighth in World Cup play. A long ball from across midfield bounced high and fooled Brown, who went far out from the net. She leaped and could only tip it, with Lilly running in behind to knock it home.
The 36-year-old Lilly is playing in an unprecedented fifth Women's World Cup.
England defender Faye White was flattened by an elbow in the 37th minute from Wambach, which the American said was accidental. White was marking Wambach, and the blow seemed to throw her off stride.
"The fact that Faye got that blow really shook her," England coach Hope Powell said. "Faye was equal to her (Wambach) in the air, caused her all kinds of problems."
Powell said her defense was probably caught napping when Wambach pounced.
"At this level if you're not on your guard with players like Abby, they will punish you," Powell said. "We respect the fact she scored a great goal."
Although England had more possession and frustrated the United States with its pressing defense in the first half, it failed to muster any serious chances with Karen Carney, Kelly Smith and Eniola Aluko trying to organize most of the offense.
The United States struggled early in the match, similar to the first three games -- a 2-2 draw against DPR Korea and narrow wins over Sweden and Nigeria.
Unable to manage long possessions, the Americans were most threatening on set plays.
The United States is seeking its third World Cup to go with titles in '91 and '99. The Americans have never failed to reach the semifinals. Four years ago they lost to eventual champions Germany 3-0.
England was making only its second appearance in the World Cup quarterfinals and was more lightly regarded than at least two of the US opponents in group play -- DPR Korea and Sweden.