In China, Vincent Lo and the company he heads are best known for the legendary Xintiandi project in Shanghai, where he transformed a rundown city center area into Shanghai's, if not China's, top entertainment hub.
"I really feel very honored and privileged to have had the opportunity to do something like Xintiandi," says the chairman of Shui On Group, a Hong Kong-based company involved in property development, construction and construction materials.
The company, Lo says, now receives "constant" invitations from different cities and provinces across the country to "do" Xintiandi in their places.
"Personally I feel that you simply cannot expect to be able to do such a project in a lifetime," the Hong Kong tycoon says.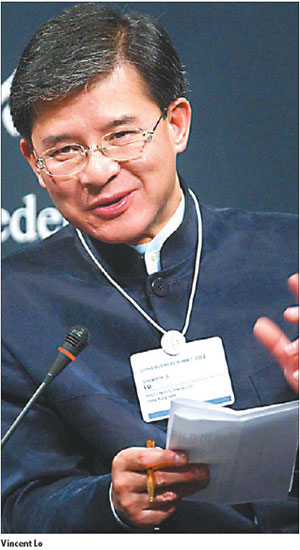 "(But) what is important is that we started a trend of people wanting to preserve old and traditional houses," Lo says.
Shui On has now completed or is developing similar projects in Hangzhou, Wuhan and Chongqing.
But the runaway success of Xintiandi comes more than a decade since Lo's first investment on the mainland.
Lo was one of the early overseas investors on the Chinese mainland, building a hotel in Shanghai with a local partner in 1985 at a time when others remained very cautious about investing on the mainland.
Lo founded his own company in 1971 with a HK$100,000 loan from his father, also a property tycoon, after working at the family firm for two years .
"I work very hard and do take a long-term (view)," Lo says.
The 59-year-old Hong Kong native, who is said to be an "incessant, indefatigable traveler", gets up early in the morning, usually at 7 am and often works till late at night.
"I don't look at today, instead I am looking 10 or 20 years down the road," Lo says.
"And I don't just look at our own company but at places where we are operating," Lo says, citing the example of Shanghai.
"By 2020, Shanghai will be an international business and commercial center, and so what will be needed then?" Lo asks.
"We are to cater to the needs of that time by developing certain facilities," Lo says.
Shui On's business on the Chinese mainland is now bigger than that in Hong Kong.
In the past few years, all of Shui On's new investments, Lo says, have been on the mainland rather than in Hong Kong.
In addition to its property business in Shanghai, Wuhan and other cities, Shui On has invested heavily in the cement industry in Southwest China's Guizhou and Sichuan provinces and Chongqing Municipality since the 1990s, becoming a formidable player in the regional cement sector.
And the company has just branched out to Dalian, a coastal city in Northern China, to develop a 15 billion yuan software park, its first foray into this field.
Shui On, Lo says, is paying close attention to regional economies in order to seek out business opportunities.
The Chinese economy first took off in the coastal areas, then the government launched the western development policy in 1997, which was followed by the policy initiatives to support the development of Central China and the revitalization of the nation's old industrial base in the Northeast, Lo notes.
"We go after the opportunities," says Lo, who also serves as the vice-chairman of the All-China Federation of Industry and Commerce.
"But before we go and before every project, we will ask ourselves difficult questions: "do we know what we are doing and do we have the expertise?", says the golf-loving property tycoon.
Shui On, Lo says, would thoroughly research the city and even the region before embarking on any project.
"We will examine what role the city plays in that region and what has been its past growth track record and economic structure, and look to the future; then we say ok, the city will have to develop certain facilities in order to cater to its needs of its future role," Lo says.
Lo, who often personally leads his team to go to the city to spend time touring around and observe people's life and daily activities in the grass-root areas and districts, has his list of do's and dont's.
"We don't go there as short-term players and just make money and run," Lo says.
"We genuinely come and help."
This is a way that Lo says has earned him many friends in those cities and provinces where Shui On has a presence.
"That's why we are well sought after in many provinces and cities," he says.