Night economy prospers in Dahua
By (chinadaily.com.cn)
2019-11-01
The night economy has been prosperous in Dahua Yao autonomous county, Hechi, Guangxi Zhuang autonomous region in recent years due to the county government's great efforts.
Damou town in Dahua is currently a hot spot at night for both local residents and visitors from outside the county.
"After dinner, I am used to visiting the town, which integrates catering, living, traveling, and shopping services. The night life in Dahua is beyond my expectation," said Zhang Zhike, a tourist from Shenzhen, Guangdong province.
The town's 9009 Disco Bar is of great popularity for night consumption. "The average turnover per night is around 75,000 yuan ($10,628), and the maximum is 115,000 yuan," said Lan Mei, boss of the bar.
Night economy is becoming a new growth driver to advance the development of Dahua apart from tourism.
From January to September, the number of visitors to Dahua totaled 2.15 million, a year-on-year increase of 30.15 percent, while tourist consumption reached 2.98 billion yuan, up 32.6 percent.
The fiscal revenue of Dahua rose by 8.6 percent to 698.01 million yuan in the first three quarters of this year. The total retail sales of consumer goods were 1.62 billion yuan, increasing by 7 percent from the previous year.
Damou town was open to public on July 1, and is designed as a place to boost the county's tourism and catering industries, as well as offer employment opportunities to impoverished people who have been relocated there.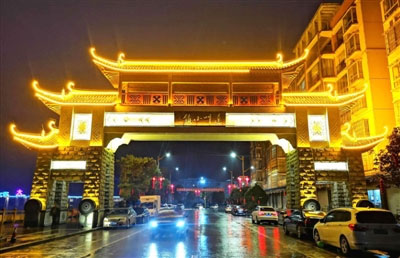 The night scene of Damou town in Dahua Yao autonomous county in Hechi, Guangxi Zhuang autonomous region. [Photo/Hechi Daily]