Embroidery workshop increases women's income
By (chinadaily.com.cn)
2019-10-30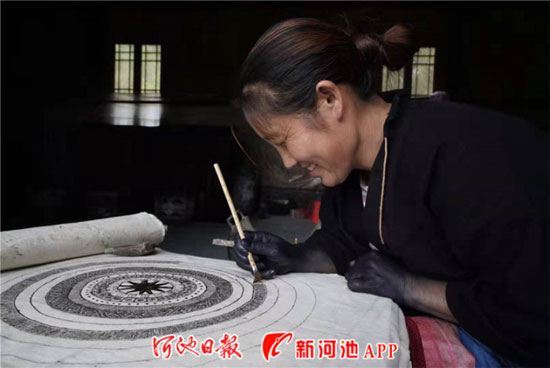 A woman of the Baiku Yao ethnic group draws patterns on cloth at the embroidery workshop in Nandan county, Hechi. [Photo/Hechi Daily]
An embroidery workshop has been operating since May to increase the income of women of the Baiku Yao ethnic group in Nandan county, Hechi, Guangxi Zhuang autonomous region.
The Baiku Yao ethnic group is a sub-branch of the Yao ethnic group. Its total population numbers about 30,000, and they mainly live in the northwest of Guangxi and Libo county in Guizhou province. It is recognized by the United Nations Educational, Scientific, and Cultural Organization as "the ethnic minority that best retains its old culture in the world."
The process of making traditional clothing of the Baiku Yao people, such as spinning, embroidery, and batik, possesses the ethnic group's unique characteristics.
To pass down the unique culture and to encourage women of the Baiku Yao ethnic group to start their own businesses, the Nandan Women's Federation founded the workshop, which integrates production, sales, exhibitions, and interactive experiences.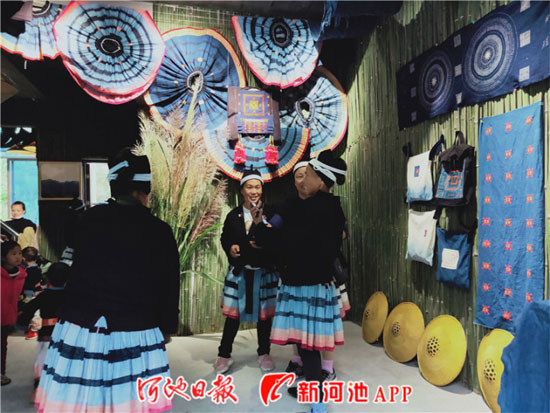 Women at the embroidery workshop display their completed clothing. [Photo/Hechi Daily]