Bama Yao autonomous county
By Feng Lu (chinadaily.com.cn)
2019-10-25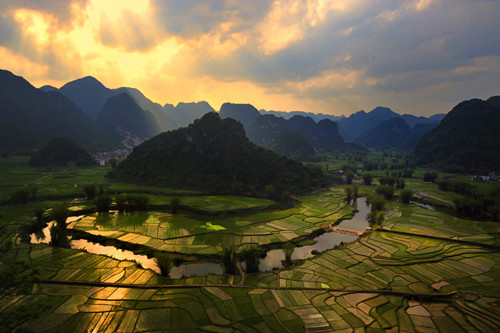 The beautiful scenery of Bama Yao autonomous county in Hechi [Photo by Huang Dayou/Xinhua]
Terraces in Bama Yao autonomous county [Photo by Huang Dayou/Xinhua]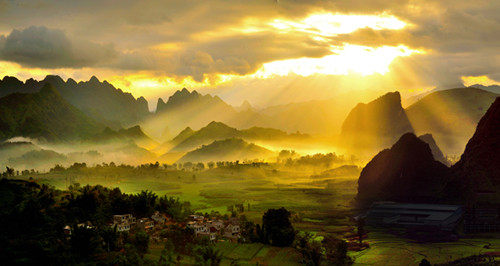 The sun glows over Bama Yao autonomous county [Photo by Huang Dayou/Xinhua]
Bama Yao autonomous county has been honored as "China's longevity village". It belongs to Hechi city in Guangxi Zhuang autonomous region, located in the northwest of Guangxi. The total area of the county is 1,971 square kilometers and its construction area covers 8 square kilometers.
Eleven ethnic groups inhabit Bama Yao, such as the Yaos and Zhuangs. The permanent resident population here was 236,400 by the end of 2018.
Land is very precious in the county. There are many more mountains than available land in the area. Thanks to its environment, people here often live longer lives. According to statistics from the second to fifth national population census, the proportion of Bama's centenarians all rank first among the world's five longevity areas.