Hechi craftsmanship recognized in Guangxi
By (chinadaily.com.cn)
2019-01-14
Guangxi Zhuang autonomous region recognized 20 skilled workers as "Guangxi Craftsmen", including a winemaker and bronze drum maker from Hechi city. The award ceremony was held on Jan 9.
One of the honorees, Tan Jianliang, is deputy general manager of Guangxi Danquan Liquor Co. Tan has 29 years of experience making wines and medicinal alcohol, earning the status of national-level wine taster and winemaker. Tan is also skilled in sales and company management.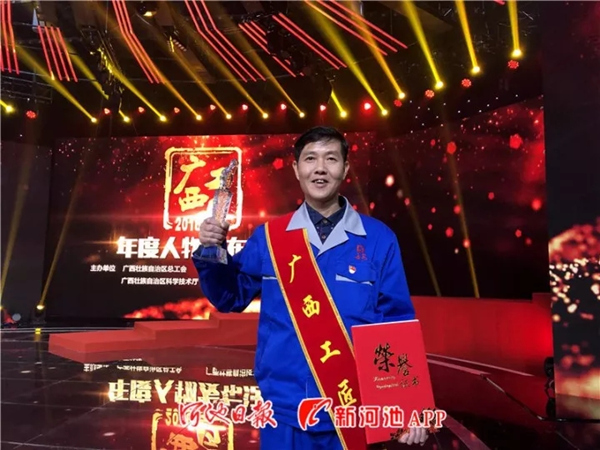 Tan Jianliang from Hechi city is recognized as a Guangxi Craftsman on Jan 9 for his exceptional skills in wine making. [Photo/Hechi Daily]
Wei Qichu, another honoree, was born in Huanjiang Maonan autonomous county, Hechi. He makes bronze drums, a percussion instrument widely used in the area. Wei has helped give more exposure to the craft, which is now an intangible heritage item. On May 29, 2017, the world's largest bronze drum, made by Wei, earned a Guinness World Record. The drum is 6.68 meters in diameter, 2.8 meters in height, and weighs 50 tons.
The award ceremony was sponsored by Guangxi's Federation of Trade Unions, Department of Industry and Information Technology, Department of Science and Technology, and Human Resources and Social Security Department.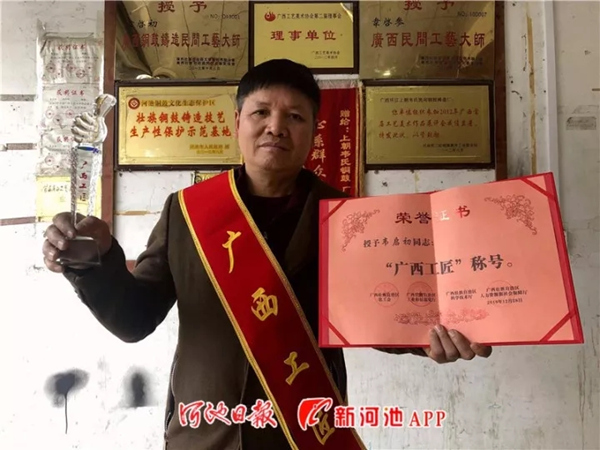 Bronze drum maker Wei Qichu shows off his award certificate. [Photo/Hechi Daily]