Bama's development rides on "Big Health"
By (chinadaily.com.cn)
2018-12-20
The China-ASEAN Big Health International Industry Forum was held in Bama Yao autonomous county, Hechi city from Dec 14 to 16. It was centered on making Bama a global leader in the promising big health industry.
Nearly 200 officials, experts, and investors made high-profile appearances at the event, offering their advice on how to enhance Bama's widespread reputation as a region with a long life expectancy and forming a reasonable plan for developing the big health industry.
During the forum, the China Academy of Invention Achievement Transformation signed a contract with the Bama county government to carry out research on things that impact longevity.
The Guangxi Bureau of Geology & Mineral Prospecting & Exploitation conducted a comprehensive study of Bama's geology, which will help with the scientific development of the region's big health industry.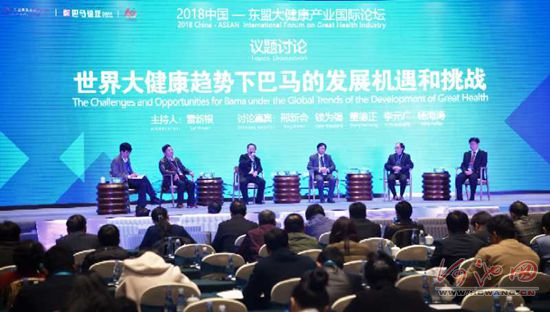 Experts have a dialogue at the China-ASEAN Big Health Industry International Forum held in Bama Yao autonomous county, Hechi city from Dec 14 to 16. [Photo/www.hcwang.cn]
An expert predicted that the market size of the big health industry in China has the potential to one day reach 8 trillion yuan ($1.2 trillion). In light of this, Bama has decided to work toward becoming a longevity healthcare international tourism zone as well as a leading big health center in Guangxi. The construction of the Shenzhen-Bama big health special cooperative pilot zone will help it achieve this goal. Developers are eyeing a complete industrial chain, from food to service to technology.
Management of the self-developed brand "Bama Longevity" has also been improved with the creation of a dedicated operating company. Bama was the first county in China to successfully register a comprehensive trademark for a county-level public brand.
Since 2017, a number of well-known enterprises have set up operations in Bama to explore the region's tourism and healthcare sectors. Total investment has exceeded 40 billion yuan.
"The secret to Bama's longevity can be discovered through research and our task is to find it and share it with other parts of the world," said Dai Mei, chairwoman of Shenzhen Bee Colony Industry Service Group during an interview. The company will initiate a number of large health industry projects by partnering with Bama authorities.