Luocheng receives $175.27m of investment at CAEXPO
By (chinadaily.com.cn)
2018-09-25
Luocheng Mulao autonomous county in Hechi city has signed three projects totaling 1.2 billion yuan ($175.27 million) at the 15th Investment Promotion Conference and Special Signing Ceremony of Hechi city held in Nanning, capital of the Guangxi Zhuang autonomous region on Sept 13.
The three projects concerning tourism and green energy are Luocheng Logistics City, Luocheng Phoenix Valley Ethnic Eco-tourism Development Project and a biomass cogeneration project, respectively invested by two companies in Guangxi, namely Jiangxi Youyou Travel Network Technology Company and Zhonghuan Guotou Holding Group.
With an estimated investment of 500 million yuan, the logistics city plans to build a logistics base, a construction materials market, a new farmer's market, a civil square, a five-star hotel and supporting public installations.
The eco-tourism project, valued at approximately 380 million yuan, covers a total land area of around 4,000 mu (266.67 hectares) and has a total built area of approximately 30,000 square meters, and will set up China's Mulao Ethnic Characteristic Cultural Park and some other tourism resorts.
To change the single energy structure of the county, the biomass cogeneration project will push forward the development of the new energy industry and achieve the emission reduction through energy saving, which will be of great significance in building a conservation-minded society.
Depending on the abundant resources and convenient transportation, Luocheng has further optimized the business environment and attracted business and investment to boost economic and social development.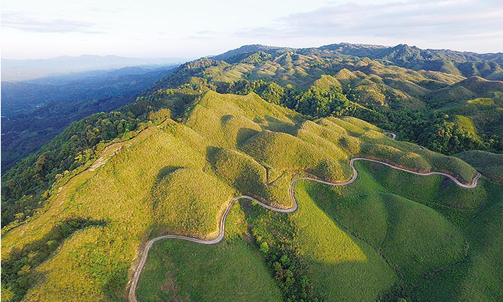 Luocheng county is surrounded by green mountains. [Photo by Liao Guangfu/gxlc.gov.cn]
The most beautiful sea of clouds rises and falls around the Tiantai Mountain in Luocheng. [Photo by Liao Guangfu/gxlc.gov.cn]