First run of Guangxi-themed train
By (chinadaily.com.cn)
2018-07-09
A tourism-themed high-speed rail (HSR) D1780 pulled out of the Nanning East Station on July 1, marking the launch of Guangxi's tourism brand promotion of HSR, which is sponsored by China Railway Nanning Group Co, Ltd and the Tourism Development Committee of Guangxi Zhuang Autonomous Region.

The interior of the HSR [Photo by Wei Jifang/hcwang.cn]
The train had a special theme carriage with posters and pictures showing the breathtaking landscapes of Bama Yao autonomous county. Passengers in the carriage could well have felt as if they were actually traveling through the picturesque scenery of Bama.
Yao ethnic girls showed their national customs and folk culture by dancing and singing, which was widely appreciated.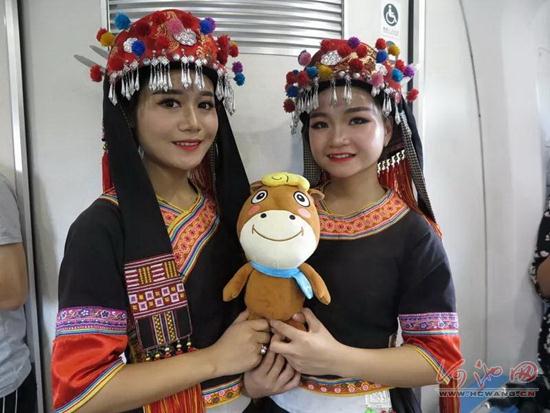 The themed HSR will help boost the tourism industry and bring new economic opportunities to Bama. Yao ethnic girls show passengers the Bama mascot. [Photo by Wei Jifang /hcwang.cn]