Fenlong Festival to arrive in Huanjiang
By (chinadaily.com.cn)
2018-06-08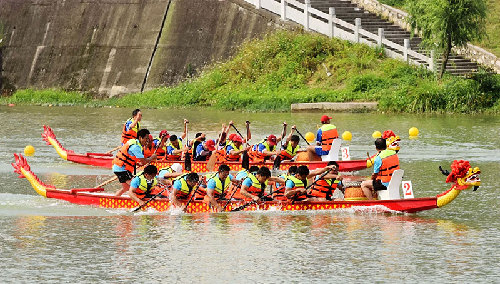 Two dragon boats in an intense battle compete at the nationwide dragon boat invitational tournament of the 2017 Guangxi Huanjiang Mulam Fenlong Festival & Third World Natural Cultural Tourism Festival. [Photo by Gao Dongfeng/xinhuanet]
The Huanjiang Mulam Fenlong Festival will be celebrated alongside the fourth World Natural Cultural Tourism Festival in Huanjiang Mulam autonomous county, Hechi, from June 29 to July 1.
Normally lasting three to five days, the Fenlong Festival, or the Temple Festival, is the most important traditional festival for the local Mulam ethnic group.
This year, under the theme of "Huanjiang heritage, Mulam culture", traditional festivities will be integrated with the Natural Cultural Tourism Festival to publicize the international brand of Mulam tourism.
There will be worship ceremonies, ethnic performances, dragon boat races and bamboo rafting shows. The world's largest bronze drum, with a diameter of 6.68 meters, height of 2.86 meters and weight of 50 tons, will be on display as well.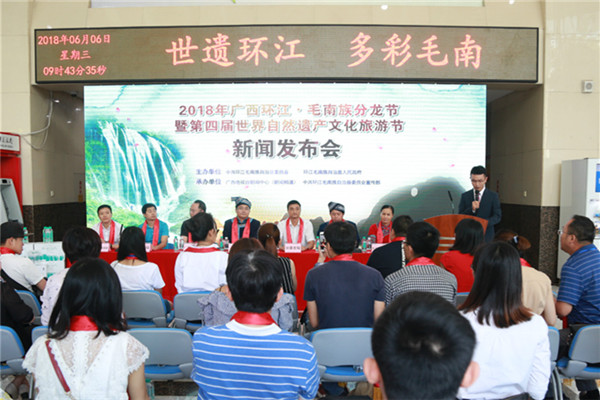 The media conference of the 2018 Guangxi Huanjiang Mulam Fenlong Festival and the fourth World Natural Cultural Tourism Festival in Nanning, Guangxi Zhuang autonomous region is held on June 6. [Photo provided to chinadaily.com.cn]
Unveiling the coming extravaganza will be several ancient praying rites and a story-telling drama concerning mysterious tales about the Fenlong Festival.
According to ancient tales, the mighty loongs (Chinese dragon) will fly down from heaven this season, bringing rainfall to help local farmers.
Since 2009, Huanjiang has held nine Fenlong Festivals to maintain, preserve and inherit their spiritual legacy. The festival is commonly acknowledged as being among the "Top 10 Festivals in Guangxi" and "the festival with the most national character".
Huanjiang Mulam autonomous county has preserved its unique culture while also forging ahead with fast-paced economic development. Traditional theatrical performances of the Mulam people have been well received in many countries, including Germany, Thailand, and Japan.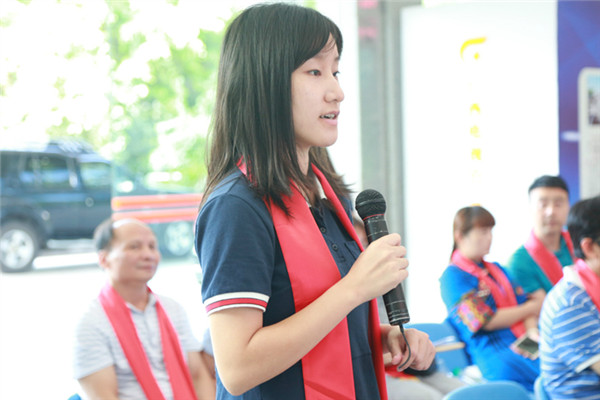 A journalist asks about the schedule of celebration events during the media conference on June 6. [Photo provided to chinadaily.com.cn]