Hechi centenarian overlooking New York City
By Huang Chenkuang (chinadaily.com.cn)
2017-02-14
The Nasdaq video tower in New York City's Times Square is normally used for beaming out photos of supermodels and celebrities advertising the world's biggest brands. But recently, the famous screen has featured a very different kind of subject: A 109-year-old granny from rural Guangxi Zhuang autonomous region.
The striking shot of Yang Shenxiu, a resident of Hechi city in northwest Guangxi, has been startling New York commuters since the beginning of February.
Dressed in an elegant red robe and holding a pheasant in her arms, the centenarian sits below a Chinese slogan wishing New Yorkers a happy Chinese New Year and promoting Hechi's reputation as China's "longevity city".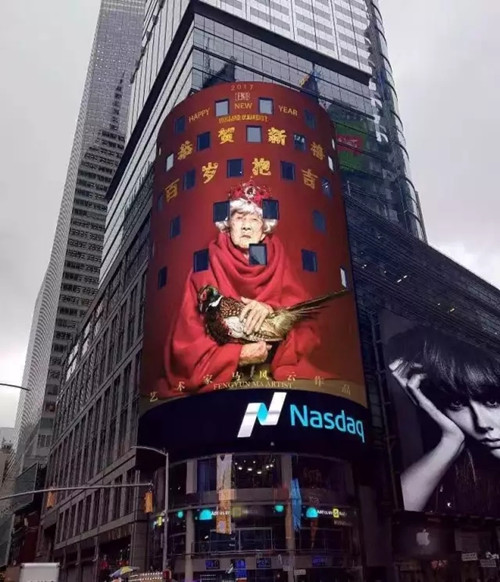 A photo of Yang Shenxiu, a 109-year-old lady from Hechi, Guangxi Zhuang autonomous region, is displayed on the Nasdaq video tower in New York City's Times Square. [Photo/Hechi Daily]
Yang's hometown is famous for its long-lived residents. The city of 4.2 million people in Southwest China boasts 760 residents over 100 years old, more than 2.4 times more than the threshold for a city of that size to be considered a world longevity city, according to the International Expert Committee on Population Ageing and Longevity.
The photo of Yang is part of a series of portraits of Hechi centenarians taken by Ma Fengyun, the award-winning young Chinese photographer whose work has appeared in French magazine the Eye of Photography and other prestigious titles.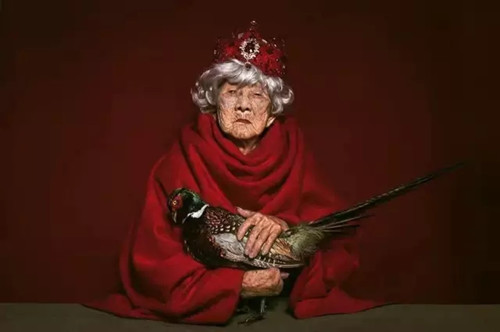 The photo of Yang Shenxiu is part of a series of portraits of centenarians from Hechi in Guangxi Zhuang autonomous region shot by the young Chinese photographer Ma Fengyun. [Photo/Hechi Daily]
Ma was invited to take part in the project by local organization Bama Chunyu Non-profit Association, and said she was inspired by meeting her elderly subjects.
"Every aged person has gone through rich experiences even if they have led a common life. Time is the best make-up for them, and I wanted to show the elegance of these aged people," she told reporters.
Ma snapped pictures of 10 Hechi centenarians in total, many of whose life stories were far from ordinary. Two of her subjects, Chen Hengsan and Chen Niezhong, fought for China's Red Army against Japan in World War II.
In addition to the Times Square ad, Ma's work is also being exhibited in galleries across China. The exhibition opened in Beijing's trendy 798 Art Zone on Jan 7 with a big launch ceremony attended by TV star Huolong and many other celebrities, and will tour different Chinese cities over the coming months.
Yang has also had her own private viewing of the photos, as volunteers from Bama Chunyu visited the 109-year-old at her home. According to the volunteers, Yang said she was happy with the photos and had enjoyed her first experience of wearing make-up and modeling for a photo shoot.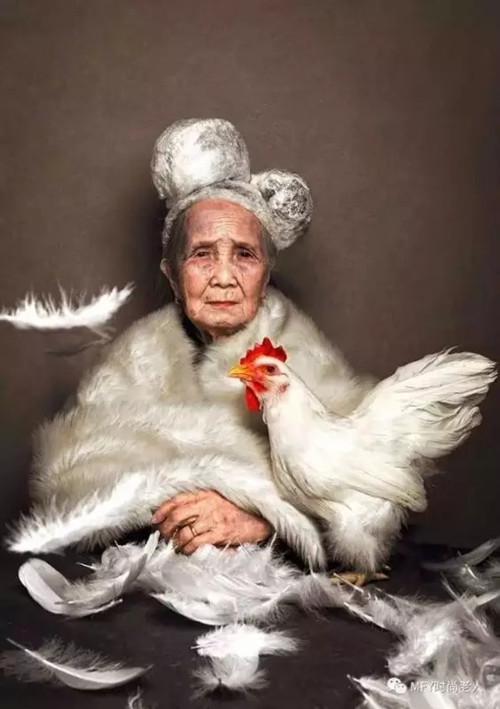 The photo of Chen Niezhong. [Photo/Hechi Daily]