Longtan 500 ton ship lift starts construction
By Feng Lu (chinadaily.com.cn)
2015-02-16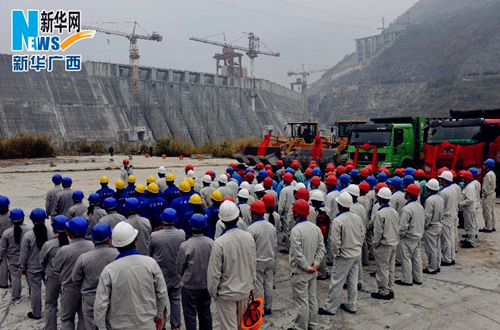 The opening ceremony of the construction of Longtan's 500 ton ship elevator on Feb 12 [Photo by Liu Guangming/Xinhua]
Construction work on a 500 ton ship lift at the Longtan Hydropower Station began on Feb 12.
According to the National Development and Reform Commission, the navigational structure of the Longtan Hydropower Station will be placed at the bank of the Hongshui River.
The new second level vertical ship lift will be able to elevate ships with a maximum weight of 500 tons. The new ship lift, with a total length of 1,800 meters and a maximum lifting height of 179 meters, will receive a total investment of 2.6 billion yuan ($415.7 million) and have a construction period of 72 months.
After the completion of the ship life, the Hongshui River will effectively be connected to the Xijiang River's golden waterway which flows to Guangzhou. At that time, Hongshui River will become a golden channel connecting Guizhou, Guangxi and Guangdong.
Edited by Jake Hooson