Zhanjiang's fiscal revenue up 24.1% in Q1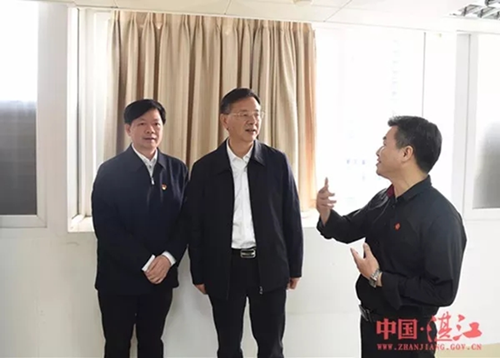 Mayor Jiang Jianjun visits the Zhanjiang Finance Bureau to be briefed on the city's fiscal situation. [Photo/zhanjiang.gov.cn]
Zhanjiang achieved a fiscal revenue of 18.4 billion yuan ($2.9 billion) in the first quarter of 2018, up 24.1 percent year-on-year, announced the city's Finance Bureau on April 24.
General public budget revenue, the major driving force behind local fiscal revenue, exceeded 3 billion yuan during the period. This was helped by a growth rate of 21.9 percent, the second highest within Guangdong province.
Tax income contributed 2.3 billion yuan to the total fiscal revenue, a growth rate of 29.1 percent, the third highest in the province. Non-tax income amounted to 742 million yuan, 24.5 percent of the total.
In the first quarter, fiscal expenditure increased by 12.4 percent year-on-year to 11 billion yuan, of which 9.1 billion yuan was spent on improving the living standards for citizens.