Headway is being made on Yulin-Zhanjiang Expressway
Construction on the Donghai Island Grand Bridge is well underway. [Photo by Lang Shuchen/Zhanjiang Daily]
Work on the Guangdong section of the Yulin-Zhanjiang Expressway will be further accelerated in order to meet its 2019 deadline, which is scheduled to coincide with the completion of the section in Guangxi Zhuang autonomous region.
Spanning 196 kilometers, Yulin-Zhanjiang Expressway is a major transportation channel which links cities within the Beibu Gulf. When completed, it will play a significant role in propelling regional economic development and completing local transportation network.
Located at the end of the expressway, the 4.8-kilometer Donghai Island Grand Bridge is the longest sea bridge in the Guangdong section and will be a no small feat to complete. So far, the construction is progressing well, with two pier columns, 134 pile foundations, one cushion cap and 13,000 cement fly-ash gravels (CFG) already in place.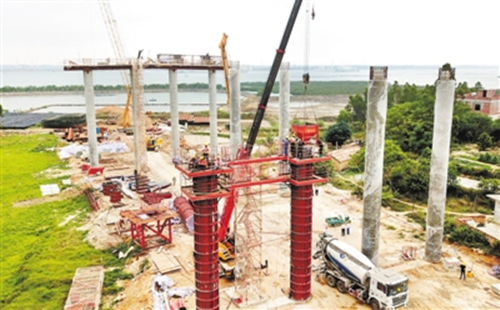 Heavy-duty machines are laying concrete and casting pier columns for the Donghai Island Grand Bridge. [Photo by Lang Shuchen/Zhanjiang Daily]